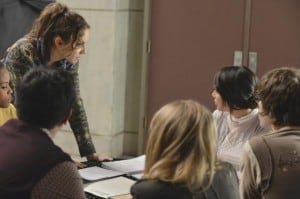 Spencer is going to be reeling from the Toby reveal for quite a few episodes of Pretty Little Liars.  In a mid-February episode, for example, her downward spiral will lead to a potentially dangerous confrontation with Mona.
"When dealing with matters of the heart, people react in many different ways: Still crushed over her break-up, Spencer continues her downward spiral as she now takes her anger and hurt out on Mona. Caleb, on the other hand, hides his pain by being closed off when discussing his father. But when Hanna devises a plan to bring father and son back together, will that help Caleb heal old wounds or just make things harder? And Aria, who is still missing Ezra, finds she is spending more time with Wes.  Meanwhile, Emily and Jason work together to put together the pieces of Ali's trip to Cape May and what really happened during that vacation."
Use the arrows above to browse through photos for the February 12 episode of Pretty Little Liars on ABC Family.