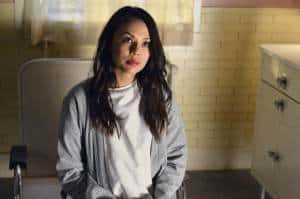 New information about the upcoming third season of Pretty Little Liars keeps filtering in, especially since there's less than two weeks until the premiere! Mona's been exposed as "A" and is now in an asylum, and the girls spent the summer in relative peace. But when they all come together again in Rosewood, they'll quickly realize that their problems are far from over. Photos and sneak peeks from the season 3 premiere episode reveal a few suspicious characters still in town, including Jenna (still pretending to be blind), as well as Lucas and a mysterious new girl.
In the June 12 episode, the girls come to realize that there's a new "A" player in town…and, like the last one, this one means business. "After getting a gruesome reminder that "A" is still calling the shots, Aria, Emily, Hanna and Spencer try to quickly devise a plan on how to deal with this old/new threat and the usual game that has been taken up a notch. Spencer and Hanna continue to play with fire as they look for answers, while one of Aria's past indiscretions becomes fodder for "A's" game."
Mysterious, yes? And very creepy, especially since we'll be seeing more of Mona in the asylum. Mona is very good at freaking us out with her creepiness.
Make sure to check back, because we recently visited the set and we'll be bringing you more news and spoilers about the upcoming season in the days leading up to the premiere.