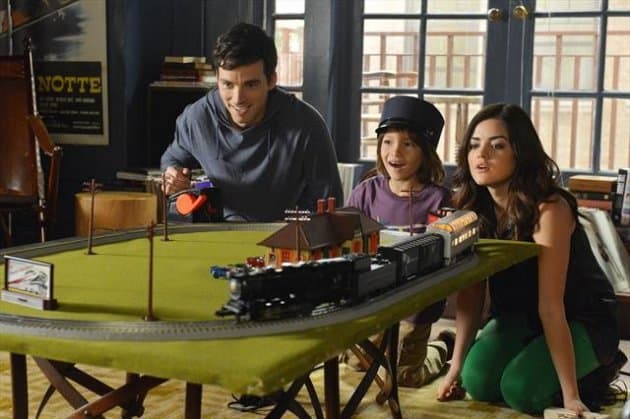 Aria and Ezra have gone through a little bit of a rough patch lately on Pretty Little Liars.  After Ezra learned that Aria had kept his son's paternity a secret, he left town to bond with the boy.  Back in Rosewood, Aria's been missing Ezra and hanging out with his brother, but the two recently sharing a kiss might complicate the situation further.
In a late February episode, titled "Out of Sight, Out of Mind", Aria will reunite with Ezra and Malcolm and attempt to bond with Ezra's son.  Since he's now a part of her boyfriend's life, she's going to have to get used to it.
Elsewhere, "Spencer is finally ready to talk, but Emily is not so ready to accept what she has to say. Will she heed Spencer's warnings or will Emily go off to find her own answers down a path "A" has designed for her? Hanna, on the other hand, is preoccupied with helping her mother after Ashley is involved in a hit-n-run accident. Now having a new secret to hide, Hanna wonders if "A" had something to do with it after all. With Aria, Emily, Hanna and Spencer are now really afraid does "A" have them right where they want them?"
Use the arrows above to browse through photos for the February 26 episode of Pretty Little Liars on ABC Family.