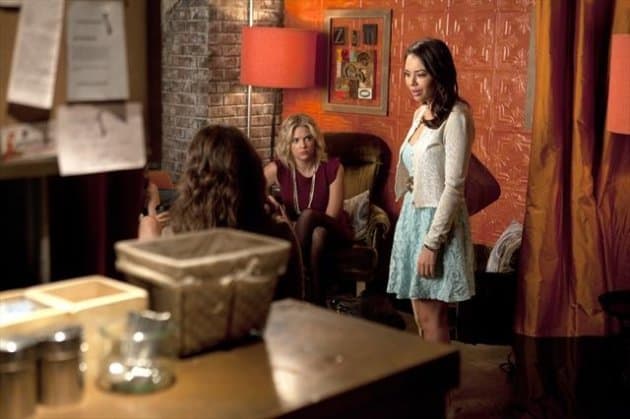 Mona returned to Rosewood High in the winter premiere of Pretty Little Liars and it looks like "A" is up to her old tricks!  The recently released sanitarium patient was tormented by her fellow students.  Desperate for friends – and acceptance by Hanna, Aria, Spencer and Emily – it looks like Mona may have set up Meredith to be injured.  Of course, all that did was freak the girls out more.  But can they afford to ignore Mona or should they pretend to be on her side to gather more intel?
Meanwhile, Toby continued to secretly be a member of the "A" team and the show revealed that Jason had been stabbed, leading us to believe that he's the one who had kidnapped Aria aboard the Halloween train.
In next week's episode, the girls' suspicions against Mona continue to mount and they're convinced she's the one behind the school fire.  Hanna, on the other hand, still holds out some hope that her former friend might be innocent.  And Aria's suspicions about her father also grow when something important goes missing from her bedroom.
Watch a preview below for the January 15 episode of Pretty Little Liars.  You can also browse through photos for the episode here.
Visit our Pretty Little Liars page for spoilers, sneak peeks and more!
http://www.youtube.com/watch?v=hw16NpYBdoQ