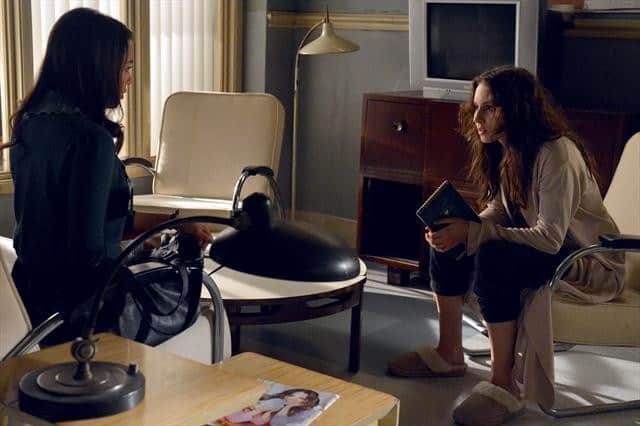 Spencer confessed Toby's duplicity to her friends in this week's Pretty Little Liars.  But despite Spencer's insistence that Toby had fooled them all, Emily refused to believe the truth and tried to track her old friend down.  Things came to a head when Spencer followed Mona to the woods and saw a dead body that she thought was Toby's.  Spencer chased her through the trees and then broke down in grief.  Emily eventually got a text from someone she thought was Toby who agreed to meet with her, but he failed to show up and all she caught a glimpse of was the blond girl in the red coat.  Later, she found a note from "A" in her car saying "Toby is no more".  At the end of the episode, we saw that a nearly catatonic Spencer had been found by the police.
Maggie's potential move to Rosewood really started complicating Aria's life.  She tried to bond with Malcolm but an accident that happened when she was babysitting him led her to realize that Ezra's new life may not fit with hers.  Whether or not they will continue their relationship remains up in the air.
Meanwhile, Hanna and her mother decided to keep Wilden's accident a secret until they figured out where he had gone, but Ashley started hallucinating (or seeing) Wilden around town.  Hanna also got a shock when Wilden's car turned up in their garage.  With Aria's help, the two girls pushed Wilden's car into the lake.
In next week's episode, Spencer is still missing, leaving her friends frantic to find her.  But even her family doesn't know where she is, leaving the girls worried about what's happened to her.  When Spencer turns up, she's in a very unlikely place: Radley Sanitarium.  Has Spencer lost it or is she at Radley to gather more ammunition against Mona?
Watch a preview below for the March 5 episode of Pretty Little Liars on ABC Family.  You can also browse through photos for the episode here.
http://youtu.be/SSZY1ba46Zw