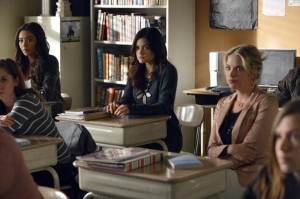 ABC Family has announced that Pretty Little Liars has been renewed for a fifth season before its fourth season, currently in production, aired a single episode. In addition, the award-winning social media juggernaut has produced its first spin-off, titled Ravenswood and set to premiere following the annual Pretty Little Liars Halloween special this fall.
"Pretty Little Liars is brand-defining and demo-defining for ABC Family. We are proud to be able to grow the PLL franchise in two ways – both by adding additional seasons of the original and by extending the storytelling into a spin-off. Ravenswood will become another 'must-tweet-TV' series for us," said Riley. Kate Juergens, Executive Vice President, Original Programming and Development, ABC Family added, "Pretty Little Liars has maintained the #1 spot in its cable time period in all core women demos since its premiere in 2010 with fans who are passionate, loyal, social and mobile. Ravenswood will have plenty of mystery, drama, friendships and suspense that will inspire the same dedication from its fans. We are very excited about both series."
Ravenswood centers on a town not far from Rosewood that has suffered a deadly curse for generations, a curse that brings five strangers together to dig into the town's terrible history before it's too late for each of them. Aside from the similar location, there's no information yet as to how Ravenswood will be connected to Pretty Little Liars or if any characters from the former will be making the move to the latter.
To learn more about the upcoming ABC Family series, dig for clues on the show's Instagram, GetGlue, Tumblr, Pinterest, Twitter, and Facebook accounts, as well as its official ABC Family website.
The fourth season of Pretty Little Liars premieres Tuesday, June 11th at 8:00 on ABC. You can check out a recap of the third season finale here.
Will you be watching Ravenswood this fall? What do you think a spin-off means for the fates of Bunheads and The Lying Game? Are there any Pretty Little Liars characters that you'd like to see appear on Ravenswood?