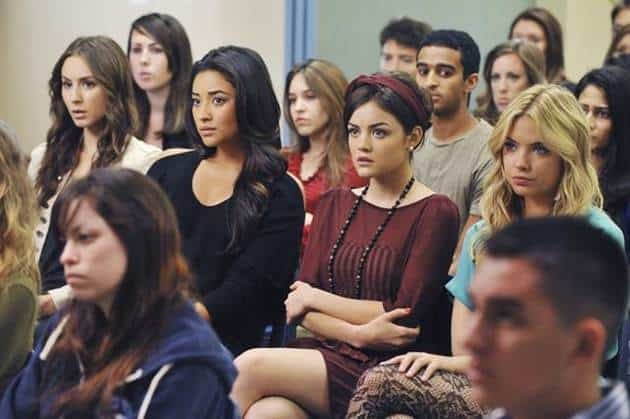 The midseason finale of Pretty Little Liars will be airing on August 30 then the show will go on hiatus until January 2012, when it will return to finish the second season. During the hiatus, ABC Family will be airing a special Halloween-themed episode of the show on October 19.
THR recently spent some time on the set of Pretty Little Liars and shared some spoilers about the special Halloween episode, as well as more season 2 spoilers when the show resumes in January. Here's what we know:
Halloween Episode: this special episode will act as a prequel to the series. We'll see Alison before she died. Several familiar faces will be returning, including Lucas. He was tormented by Alison when she alive and we'll see exactly how she treated him. We'll learn more about why someone would have wanted Alison dead (besides the fact that she was mean, obviously). Caleb obviously won't be a part of this episode, but Ian will somehow play a role. The reason Alison chose Aria, Hanna, Spencer and Emily to be her friends will be explored.
Winter Episodes: the first episode in January 2012 will start up moments after the end of the midseason finale, but there might be some tension between the girls, who will be questioned by the police in the finale. Lucy Hale indicated that the girls might be spending some time apart again in the second half of the season. Lucas will return to the show in January and while he won't be involved in a proper love triangle with Hanna and Caleb (who will be returning in the midseason finale on August 30), he will be hovering in the background. He'll also have a heavier storyline later in the season which will develop out of the Halloween episode. Ezra's ex Jackie Molina will also play a bigger role in the second half of the season.
Updated: more spoilers for the rest of season 2 popped up after the midseason finale. You can read some here and watch a trailer for the Halloween episode here.
For more Pretty Little Liars season 2 spoilers (including photos & trailers of upcoming episodes), click here.