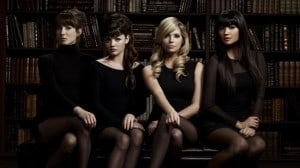 I know absolutely nothing about the show Pretty Little Liars, and can admit that right off the jump. I know one of the girls from the movie Spring Breakers is in it, and I am assuming it is a show about pretty girls who lie about stuff. If I am off, then they should really think about renaming the show. That being said, I don't think they really need to worry about renaming the show, considering it set a Twitter record during their season four finale on Tuesday night.
As reported on Variety, Tuesday night was a remarkable night for the Fox Family drama, Pretty Little Liars. You may want to sit yourself down for this, because seriously, these numbers are insane. 1.9 million people were all tweeting about the "Now You See Me, Now You Don't" finale episode on Tuesday. Do you even realize how many people that is? Not even that many people were talking about The Walking Dead episode where Lori died. Not that many people were tweeting about Ned Stark's death on Game of Thrones. No, somehow this teen soap opera brought more people on to Twitter than any other show in Twitter's history.
And I know why this is.
Because the show is watched by teen girls.
Do you know who votes on American Idol? Do you know who calls in to America's Got Talent to get an act that does dog tricks to win? Teen girls. They are the most proactive population in all the world. They want to watch a show, while tweeting about it, while Facebooking about it, while blogging about it, all while eating dinner and talking on the phone. So it sort of makes sense that a teen drama aimed at girls that has a really spicy episode would get all the teens tweeting at once.
Still though, if I pretended it didn't kind of blow my mind, that would just make me a Pretty Little Liar, too.