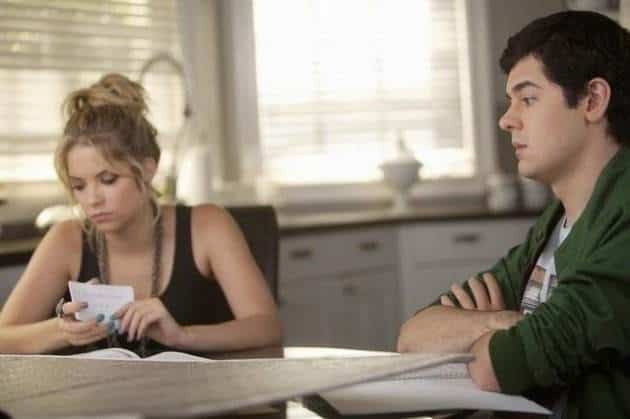 The girls on Pretty Little Liars managed to get their hands on a pretty valuable clue: 'A's cell phone. And from the fit that 'A' had at the end of the previous episode (read Mark's review), it seems clear that he/she is not happy about the lost phone. But the matter is complicated by fact that the phone is busted as a result of Hanna's car slamming into 'A' before the phone was dropped.
We saw from a sneak peek at the January 9 episode of Pretty Little Liars (view it here) that Spencer immediately wants to take teh phone to Caleb so they can gain access to its information. But Hanna doesn't want to involve her boyfriend at all, especially since she can't really tell him the whole truth about 'A'. The girls soon realize that 'A' has a helper and Hanna can't stop Spencer, Emily and Aria from getting Caleb's help.
While the girls are working with Caleb on the phone, Hanna decides to plan a birthday party for Caleb and organizes it for Spencer's family's lake house. But Lucas is acting terrible creepy. After seeing the way Alison treated him – and the way he may have gotten revenge against her – in the Halloween prequel episode, is it safe to assume that Lucas is really 'A'? I don't know the answer to that yet, but it's clear that he's definitely freaking us out. The Canadian trailer for the January 9 episode of Pretty Little Liars focuses heavily on Lucas and it looks like something very bad happens out in a boat in the middle of the lake.
Below are five sneak peeks for the January 9 episode. Don't miss an all new Pretty Little Liars next week, beginning at 8:00 p.m. ET on ABC Family.
(Note: international readers might have trouble viewing the clips below. Try watching them here, here and here).