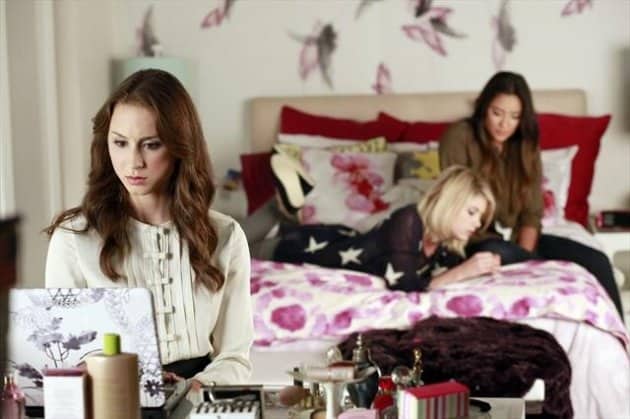 It looks like Toby's secret might be exposed in this week's all new Pretty Little Liars.  Spencer is preparing for her anniversary with Toby, including recruiting her mother for the surprise she's planning for her boyfriend.  But from the looks of the preview for the episode, it ends with a hooded Toby being confronted by Spencer.  Will he confess his role in the "A" Team?  Speaking of the team, we'll learn that Mona and Toby are definitely being controlled by a mysterious "she".  Perhaps it's the woman in the red coat who had previously visited Mona after she was exposed by "A"?
Meanwhile, Aria has decided to trust Meredith with a few important secrets and this week, while her father is away, Aria will trust Meredith to help nurse her through her cold.  But it soon becomes clear that Meredith might have alternative motives for "helping" Aria and Emily and Hanna must race to help protect their friend.
Watch two sneak peeks below for the January 22 episode of Pretty Little Liars on ABC Family.
Wisit our Pretty Little Liars page for more about season 3.
[FLOWPLAYER=http://www.tvovermind.com/wp-content/uploads/2013/01/pll-316-21.jpg|http://www.tvovermind.com/wp-content/uploads/2013/01/PLL316_fv2.h264HD-Clip2.flv,440,280,false]
[FLOWPLAYER=http://www.tvovermind.com/wp-content/uploads/2013/01/pll-316-11.jpg|http://www.tvovermind.com/wp-content/uploads/2013/01/PLL316_fv1.h264HD-Clip1.flv,440,280,false]