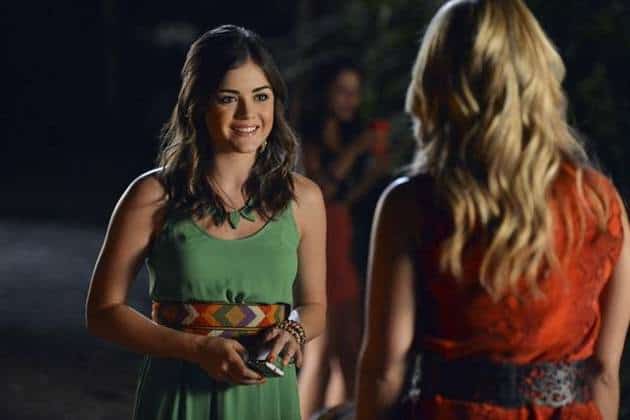 Part of Ezra's past was revealed on last week's Pretty Little Liars. It turns out that he comes from a wealthy family and has a mother who doesn't approve of Aria (shocking, I know). Meanwhile, Caleb returned from California and he and Hanna are still on the outs, while Toby vowed to learn what Spencer was hiding. And Spencer managed to gain access to Maya's website with Caleb's help.
In tonight's episode, we'll meet Ezra's brother and "Spencer and Aria find themselves at the Kahn brothers' party in hopes of saving Spencer's college career. What originally was going to be a quick stop by to ask a favor of CeCe's friend turns into an opportunity for Aria and Spencer to get some answers from Jenna with a heated game of "Truth." But will Aria and Spencer be willing to give up some of their "truths" to get the answers they are looking for? Meanwhile, Hanna gets another text from "A" about Caleb."
Watch three sneak peeks below for tonight's all new episode of Pretty Little Liars, airing at 8:00 p.m. ET/PT on ABC Family. You can also watch a preview and browse through photos for the episode here.
Browse and bookmark our Pretty Little Liars page for all news, reviews, spoilers, and sneak peeks for the show.
[FLOWPLAYER=http://www.tvovermind.com/wp-content/uploads/2012/08/pll-309-11.jpg|http://www.tvovermind.com/wp-content/uploads/2012/08/PLL3009_CL1.h264HD-Clip1.flv,500,300]
[FLOWPLAYER=http://www.tvovermind.com/wp-content/uploads/2012/08/pll-309-21.jpg|http://www.tvovermind.com/wp-content/uploads/2012/08/PLL3009_CL2.h264HD-Clip2.flv,500,300]
[FLOWPLAYER=http://www.tvovermind.com/wp-content/uploads/2012/08/pll-309-31.jpg|http://www.tvovermind.com/wp-content/uploads/2012/08/PLL3009_CL3.h264HD-Clip3.flv,500,300]