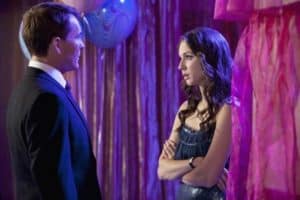 In last season's Pretty Little Liars we got exposed to a pretty big Hastings family secret: Spencer's father is also Jason's DiLaurentis' father, making the two kids half-siblings. Spencer was pretty blown away when she learned the truth and the fact that her mother had also been hiding the secret all these years. But that doesn't mean all of the Hastings' dirty laundry has been aired. Spencer has always been suspicious about her family and, in particular, about her sister Melissa's role in Alison's death.
Pretty Little Liars is returning for its third season next week and the show will once again be addressing Spencer's family in the upcoming June 19 episode, titled "Kingdom of the Blind". Here's the official description from ABC Family: "Two Liars go looking for answers, but it's the other two ladies who find answers they weren't expecting. With Spencer's mom now taking Garrett on as a client, Spencer is sure that there is a reason forcing her mother to take on the case. But when she starts questioning, she doesn't so much learn why her mother took the case as stumble upon a larger Hastings secret. Emily also gets some surprising news about her English exam and fears what those consequences could hold. Meanwhile, Aria agrees to be Jenna's accompanist in order to keep tabs on her, and Hanna tries to reach out to Lucas."
Are you intrigued? Do you wonder what Spencer's parents (or Melissa) might be hiding? Throw in the fact that the girls are still suspicious of Jenna (and they have every right to be!) and the fact that Lucas will continue to be making mysterious reappearances and we can't wait to re-visit Rosewood this season.
Don't miss the season 3 premiere of Pretty Little Liars on Tuesday, June 5 at 8:00 p.m. ET/PT on ABC Family. Watch sneak peeks from the season premiere here. We'll be posting news and spoilers from our recent set visit soon, so make sure to check back!