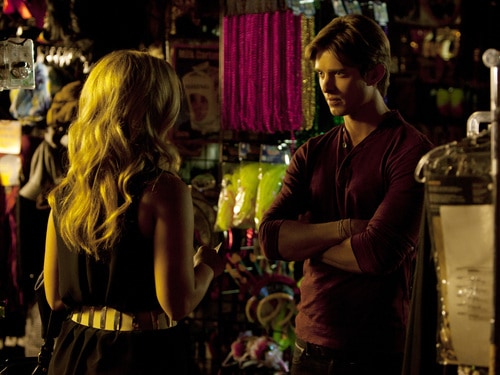 The first episode of Pretty Little Liars' web series, Pretty Dirty Secrets, premiered last week after the midseason finale (watch episode 1 here).  Not much information was revealed in the first episode, although it did set the scene for the series, which will take place in Rosewood's Halloween store leading up to the special Halloween episode of Pretty Little Liars, airing on October 23 (watch a preview).
The second episode of Pretty Dirty Secrets shows a reunion between Jason DiLaurentis and CeCe Drake.  It turns out these two have a history.  And while CeCe seems in the mood to apologize for past wrongs, Jason isn't that thrilled to see the girl that he thinks helped lead Alison astray.  Meanwhile, we're also introduced to the show's newest character, Shana, the Halloween store clerk who will also join the show when it returns in early 2013.
A new episode of Pretty Dirty Secrets will continue to be released every Tuesday until the Halloween episode.  Watch episode 2 below.