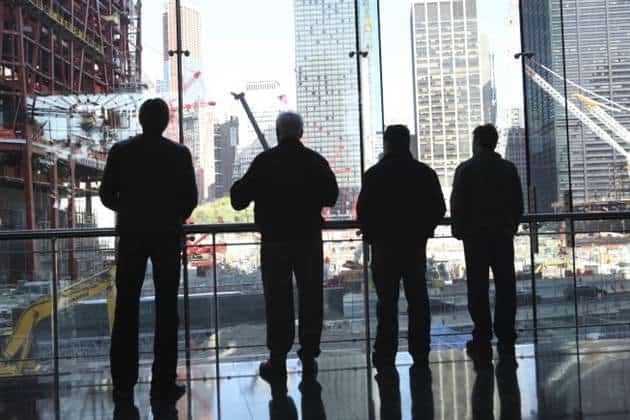 This season on Rescue Me, we've seen pot brownies, wedding planning, and visions of the past coming back to haunt the present. We've had a ballsy former love interest of Tommy's return to astounding results, Franco assume more responsibility in his career, and some pretty serious post-coital flatulence that literally brought out the gas masks. Sheila used her powers of persuasion to stop a poor report about the 62 Truck from making it on the air, while Tommy has been cooped up in a house with four women and Lou's food issues haven't gone away as promised.
It's been a season of high highs and low lows for Rescue Me, but a season that seems to be barreling toward a devastating, moving, and altogether sastifying conclusion. Now that we're heading down the home stretch and allowing one of FX's great dramas to cross the finish line, what can we expect to see in the final two episodes?
Episode 8: Vows (August 24th)
Colleen and Black Shawn wed, but the day's glow becomes an inferno when a major fire breaks out.
Episode 9: Ashes (September 7th)
Series finale: The guys at 62 Truck struggle to pick up the pieces and move on following a major fire. At the Fire Academy, meanwhile, a new batch of probies hear a familiar speech from a new leader.
I believe the biggest issue looming after reading the descriptions has to be the question of who dies. Rescue Me has been a show unafraid to knock off a regular cast member (Johnny, Jerry, Connor, Michael, etc.), but being that we're inches from the finish line, it's a safe bet that one of the regulars will be meeting their maker quite soon. A death by any major firefighter in the show would have a pretty tremendous impact, so I don't think there'll be a "really, that guy?" kind of moment in the final two episodes.
For me, though, it'll likely come down to two possibilities. Lou's been the heart, soul, and spirit of Rescue Me and having him be the one to go would probably be the hardest for Tommy to take; it makes sense, though, as the description indicates a new leader, so perhaps someone gets booted up to Lieutenant in the wake of Ken's death. Maybe the close call last season and the food issues this season have been a major bit of foreshadowing for the demise of Lou. Franco, on the other hand, has just experienced upward mobility in his career for the first time in the show, so his death would be that much more heartbreaking. We've seen the kind of potential that Franco has to move up in the ranks and to see that type of bravery, intelligence, and charisma cut short would be beyond tragic. It'd be a little more poignant, at least in thought, to have Lou pass and then Franco (or even Tommy) moving up to Lieutenant and subsequently giving the speech to the probies.
I don't see the show getting rid of White Sean or Mike, as offing the comic relief would be unusual, especially since neither have had a big role to play this season. Black Shawn is a distinct possibility, though; I could see them getting the call during the reception and having to leave immediately, so having Colleen lose her husband of a few short hours would be pretty devastating (impacting Tommy, the show's center) and could make for some amazing television. Plus, the new leader the description indicates doesn't necessarily mean that an old leader gets killed, so I could see the loss of Black Shawn throwing everybody for a loop and resulting in possible retirements from those facing their own mortality.
The descriptions are quite short, so there's a lot of issues the show has that are still floating around. The only certain is that Janet will be having her baby, just because a final season pregnancy generally results in a baby by the last episode. TV 101 and all. (My money is on it being another girl for the Gavin family, just to stick it to Tommy one last time.) There'll likely be a bit of closure for Sheila, especially since she's backing off finding a cure for Damien and confronting the loss of Jimmy again, with White Shawn and Mike around to throw in one-liners and merrily go on their ways. I only hope is that we get to see Kelly again, even for a short scene or two, as Maura Tierney's performance has been the highlight of the season for me.
My guess is that we'll find out if Mickey and Teddy keep running the bar (and stay sober), whether Chief's brief memory losses will be explained (and if he'll leave the job should they get worse), and depending on who survives, if Franco assumed a new role in the firehouse or Lou refocuses on bettering his life.
The one thing you won't see, though? Tommy killing himself. During the TCA conferences this year, it was revealed that Tolan and Leary wanted to have Tommy commit suicide in the finale, likely by walking into the ocean or sitting in a chair during a fire, but decided it was too negative. While I see their point of not wanting to end a long-running series on such a down note, either ending would have had such an emotional impact (and honestly, would have provided hauntingly beautiful imagery) that I kind of wish that that was the route they went.
It'd show that even the great Tommy Gavin can't run away forever.
What do you hope to see happen during the final two episode of Rescue Me? If one of the men from Ladder 62 has to die, who do you think would have the most impact? What would you think if the series killed off Tommy instead of one of the other firefighters?