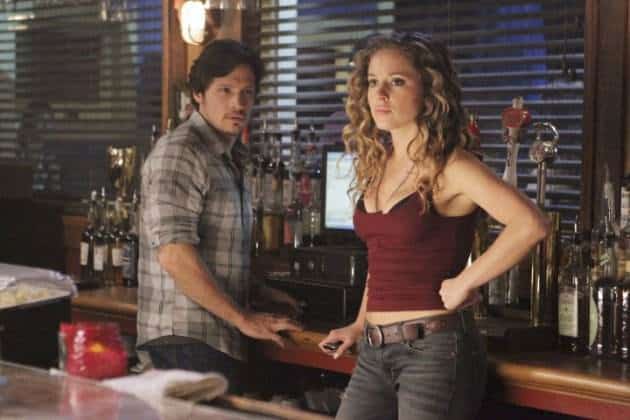 Revenge returns from its midseason hiatus tonight with an all new episode featuring Daniel's birthday party and a very unstable guest. The good news is that we can already predict exactly who will survive Tyler's attempted murder spree at the party because we know most of the guests are present at the engagement party that was first featured in the pilot. Sure, it takes away some of the suspense, but this show is pretty delicious regardless.
ABC has released some promotional photos for the January 11 episode of Revenge, titled "Infamy". In the episode, a famed author returns to the Hamptons and he just so happens to have a connection to both the Grayson and Clarke families. Emily is back in single-episode-take-down mode when she vows to destroy this author.
Meanwhile, the divorce between Victoria and Conrad continues to get ugly, but this time Conrad takes some big steps and drags Daniel into the whole mess. Apparently Jack also lets his guard down around Amanda, and it looks like she decides to do the same. The photos show Amanda getting wild at Jack's bar. How will he react to this side of her?
Finally, ABC promises that "a stunning revelation is unveiled and becomes a game changer for Emily and the Graysons". Sounds ominous, doesn't it?
Updated: Watch a trailer for the January 11 episode.
Don't miss Revenge on Wednesday nights at 10:00 p.m. ET on ABC.