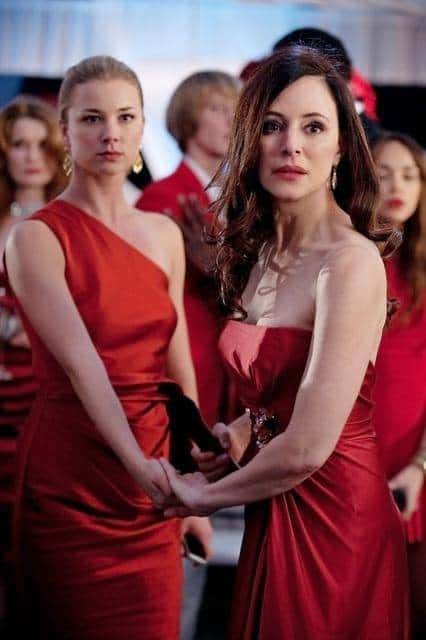 Revenge returned from hiatus this week with what felt like a penultimate episode before a finale. We know that the February 15 episode of Revenge is the big one: Emily and Daniel's engagement party. The first half of the season has been building up to next week, where the victim on the beach will finally be revealed. Will it be Daniel, as we had originally thought back in the pilot? Or will the writers shock us with a twist?
In this week's episode, Emily learned that Jack had found a stray Mason Treadwell tape, which he was eager to watch. Even bringing Amanda back into the fold to try and get the tape from Jack didn't work – he was determined to know the information it contained. But Nolan did show Jack the tape and now he knows that Victoria was having an affair with David Clarke. He also begged Amanda to let her help him, and she eventually chased after him after telling Emily that she didn't want to hurt him again. Emily also sent a tape to Charlotte, the one where David explains that Charlotte is her daughter.
Meanwhile, Victoria was getting tired of Conrad having the upper hand in their divorce and called in an ally to whip him back into shape: none other than Conrad's father. Played by William Devane, Grandpa Grayson was a pretty awesome guy who told Conrad to get the divorce under control before their assets and reputation were threatened.
An angry Jack crashed the Grayson family dinner and revealed that Victoria had been in love with David Clarke. When Daniel jumped to his mother's defense, Conrad wanted to set the record straight and told Charlotte that he was not her biological father.
Watch a trailer below for the February 15 episode of Revenge. It will be the night of the Fire and Ice engagement party and I think the promo speaks for itself. You can browse through photos for the episode here.
Updated: Watch five sneak peeks for the engagement party episode.
Don't forget to vote in our poll about whether Daniel is the victim on the beach.