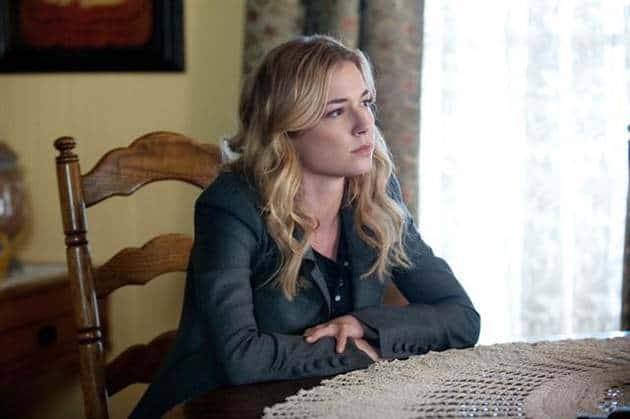 Daniel's upcoming trial for Tyler's murder may dominate a few episodes of Revenge, but that doesn't mean we won't be getting some important backstory on the show's characters. We know that James Purefoy's multiple guest appearances as an old boyfriend of Victoria will yield flashbacks to Victoria's earlier days. But we'll also be learning a great deal more about David Clarke, the man whose death was the entire catalyst for Emily's plan of revenge.
We know in the April 25 episode (view photos) that the timeline will be jump forward to December as David's trial begins. And Emily will also be uncovering some important information: the identity of the man who actually killed her father. While this man is now in Emily's cross-hairs, his fate isn't the end of the story. In the May 2 episode, titled "Absolution", Emily finds a new photo of her father that was taken on the day of his death. This leads her to a new understanding of how he died, as well as to a mysterious woman that Emily goes to investigate.
Meanwhile, we're warned that "The impending release of Daniel has everyone on edge as the press grows
more and more hostile". Does that mean he's found innocent during the trial? Whatever it means, it looks like Daniel's problems are far from over. The same could be said for Conrad, because the SEC begins their investigation of Grayson Global in this episode. Emily, Charlotte and Victoria all take a trip to the cemetery…presumably to visit David Clarke's grave. Will Victoria tell her daughter more about her biological father?
For all of our coverage of the show, including sneak peeks, reviews, spoilers and more, browse and bookmark our Revenge page. You can also watch the newest episodes from Hulu there.