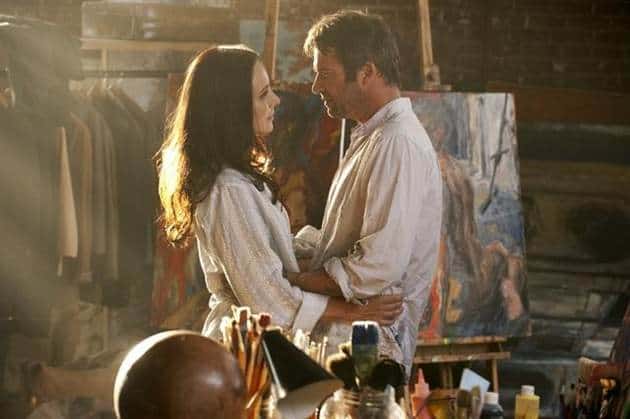 The wait for a new episode of Revenge will be lasting a little while longer. We know that the show will return on April 18 and when the show resumes, Daniel is trying to get used to life behind bars, while Victoria spirals downwards because of what is happening to her son (view photos and a preview). We'll also meet a man from Victoria's past: Dominik Wright (played by guest star James Purefoy).
Purefoy will be sticking around Revenge for a while and despite his first appearance in the April 18 episode, we don't have any photos of him until the April 25 episode. In that episode, titled "Justice", we'll be seeing Victoria and Dominik together and we know is that Emily will discover the identity of the man who actually murdered her father, which leaves all of Victoria's pawns in danger from Emily.
Meanwhile, Daniel's trial is heating up and all of his family and friends are in the courtroom and watching the proceedings. But when Declan goes into the witness chair, his testimony will damage his relationship with Charlotte. Will she feel betrayed if he points the finger at Daniel instead of his own brother, Jack?
Updated: Watch a preview for the April 25 episode.
For all of our coverage of the show, including sneak peeks, reviews, spoilers and more, browse and bookmark our Revenge page. You can also watch the newest episodes from Hulu there.