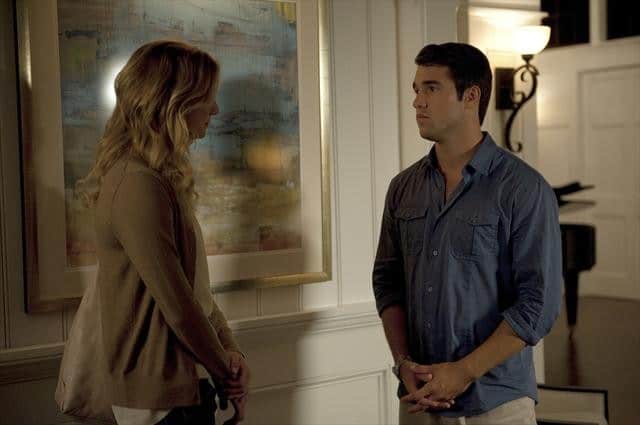 Emily Thorne is back!  Revenge returned tonight with its second season, once again opening with a tragedy: Jack's broken boat at the bottom of the ocean, along with an unknown man's body sticking out of the wreckage.  Is that Jack down there?
Meanwhile, Emily's been training with Takeda to find out what happened to her mother, but her mentor isn't happy with this new quest when her old one is still unfinished.  But Emily is determined and recruited Nolan to help her search into her mother's background, including her stay in a mental hospital.
Summer has returned to the Hamptons and society gathered for the Graysons' annual Memorial Day party.  Ashley is still working for the Graysons, but is now dating Daniel and the party also seems to be a memorial for Victoria, who everyone believes is dead.  Charlotte, on the other hand, is still alive, but is almost released from rehab, at least until her blood work comes back and shows she still has pills in her system.  Before she's dragged back to rehab, Charlotte passes on a message to Emily.  A message that caused Emily to head to a house and come face to face with none other than Victoria Grayson.
Emily said Charlotte believes there's a conspiracy to keep her locked up and Victoria believes that Conrad is trying to keep her in rehab to gain control of her inheritance and it seems like Victoria is right on the money with that one.
In next week's new episode, Emily tries to get back into the Grayson family's good books.  Watch a preview below for the October 7 episode of Revenge, airing at 9:00 p.m. ET/PT on ABC.  Use the arrows above to browse through photos for the episode.