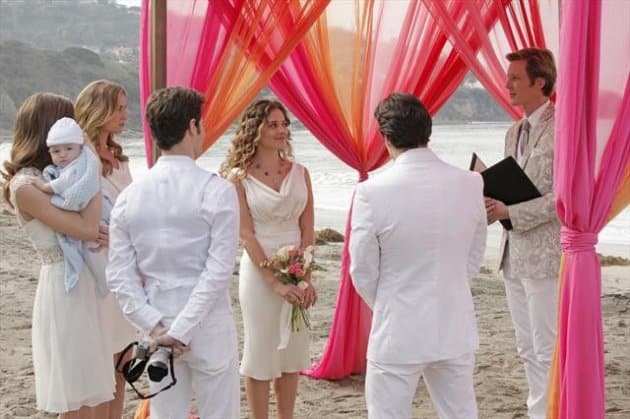 Revenge is gearing up for February sweeps with a pay-off to the dark scene we saw at the beginning of the season 2 premiere involving divers finding the wreckage of Jack's boat with a body inside. When Revenge returns with all new episodes this weekend, Jack and Amanda will get married and then sail off towards their honeymoon in Nantucket.  Unfortunately, Nolan has some bad news to deliver to his friend.
"I talked to the hotel in Nantucket and they said Jack and Amanda haven't checked in," Nolan tells Emily worriedly.  "Both their phones are off the grid."
"I took my eyes off Jack for too long," Emily laments.
Emily might not be to blame for what happens, but it's clear that some terrible does happen aboard "The Amanda" that causes it to sink.  The preview below shows Amanda holding a gun and an explosion.  If I were a gambler, I might put my money on [highlight to reveal] Amanda as being the one who perishes in the sinking.
This explosive arc will play out over the February 10 and February 17 episodes of Revenge on ABC.  You can view photos from Jack and Amanda's beachside wedding here.
http://youtu.be/Cg7GU-Bz4yc