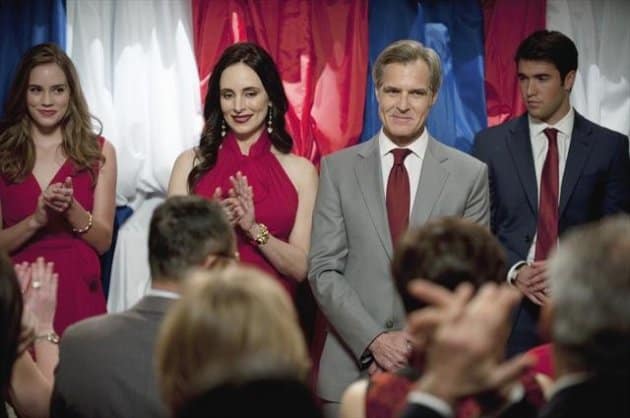 Jack and Amanda tied the knot in this week's Revenge, which will lead us to an explosive episode next week that brings us full circle back to the season 2 premiere.  Despite Emily's conflicted feelings about watching Jack marry Fauxmanda, she helped her friends go through with the ceremony.  After a party on the beach, the newly married couple sailed off into the sunset for a honeymoon.  But tragedy will soon strike next week when Nolan discovers that they don't arrive at their hotel. Instead, something terrible happens on Jack's boat.  Something that will result in a death.
Meanwhile, some of Amanda's scheming got Jack back full ownership of his bar from Conrad, but it's clear that Nate isn't happy that his plan to develop the waterfront with Conrad is now in shambles thanks to Amanda.  Now Nate has snuck on to the boat, unknown to Jack and Amanda and it looks like he may try to kill them.  And Victoria was forced to tell Daniel the truth about the Initiative after she saw Helen trying to set Daniel up the same way the Initiative set up David Clarke.  After realizing that Emily was in danger thanks to Daniel's new connections, he told her that it's best that they don't restart their relationship.  Later, Helen threatened Daniel and convinced Victoria to turn over the evidence, only Victoria turned the tables on Helen and shot her dead.
Aside from the explosion that will occur in next week's Revenge, we'll also see Conrad making a big announcement at the Graysons' annual Labor Day party.
Watch a preview below for the February 17 episode of Revenge on ABC.
http://youtu.be/zmQZ3uluue8