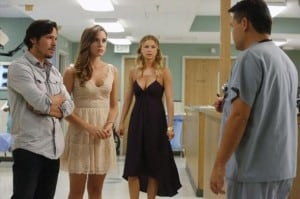 Victoria decided to make a grand declaration in this week's Revenge.  After some separate manipulation by Aiden and Emily, Victoria decided to tell reporters that Charlotte was David Clarke's daughter and welcomed Amanda publicly into her family.  But Conrad got back at Victoria for admitting to Charlotte's paternity by telling a reporter that he and Victoria were getting remarried, while Daniel learned the truth about his mother's "death" and has now decided to play her game to get back at her.  Emily also learned that the White Haired Man (a.k.a. Gordon) is actually in a relationship with her mother, who is residing in the Hamptons (although her exact location is unknown to Emily).
In next week's Revenge, Amanda learns that playing with the Graysons can lead to disastrous consequences.  But is she the only one who will suffer?  Daniel steps up his own game, desperate to retake control of his life. Emily uses Amanda to find out more about her mother from Victoria, but we're not sure she'll like what she learns.
Watch a preview below for the October 21 episode of Revenge and use the arrow above to browse through photos for the episode.