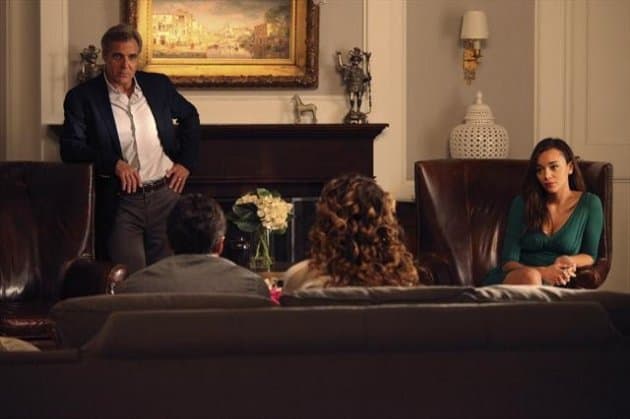 Conrad stepped in to help Jack at Charlotte's urging in last week's Revenge and when he meets wtih Jack and Amanda in tonight's episode, he tells them that the drug charges won't be a problem to get rid of, but the murder charge will be more difficult.  Amanda is quick to do anything to save Jack and quickly gives up the name of the real killer, but Jack doesn't want to turn in his father's friend.  Conrad suggests that Jack should be willing to help himself in order to get his assistance.  Will Jack turn on the friend in order to save himself?
Meanwhile, Victoria comes up with a plan for Jason Prosser (Dylan Walsh) to acquire Stonehaven.  Daniel – with help from Emily – is determined to acquire the company, particularly when his mother attempts to sabotage the deal, leaving him to go toe-to-toe with Prosser.  Finally, Charlotte makes a shocking announcement on her 18th birthday that certain members of her family aren't crazy about.
Watch some sneak peeks below (rolled into one video) for tonight's all new episode of Revenge at 9:00 p.m. ET/PT on ABC.
[FLOWPLAYER=http://www.tvovermind.com/wp-content/uploads/2013/01/rev-212.jpg|http://www.tvovermind.com/wp-content/uploads/2013/01/rev-212-Clip1.flv,440,280,true]