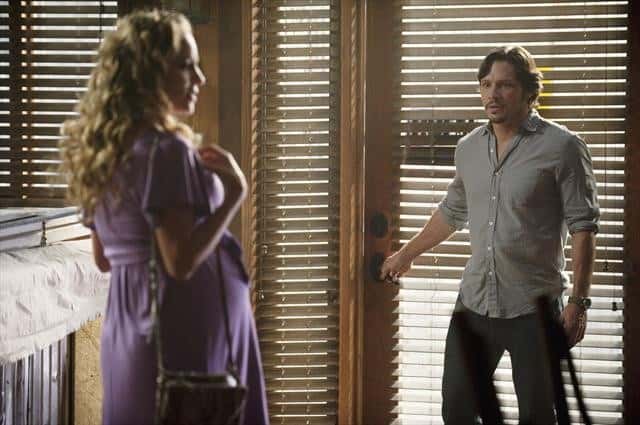 Jack was noticeably broody in the season premiere of Revenge last week and part of the problem seems to revolve around Amanda.  His doubts about her are increasing.
In tonight's all new episode, Jack and Amanda proceed with the paternity test and while Jack is trying to be supportive it's clear that Declan would be relieved if the baby didn't belong to his brother.  As he rightly points out to Jack, they've got enough problems right now without adding a baby into the mix.  Amanda, meanwhile, confesses to Emily that she did sleep with another man after Jack, but she thinks the baby belongs to Jack.
Meanwhile, Nolan gets a visit from one of his accountants, who stops by to encourage him to hire a CFO for his company.
Watch three sneak peeks below for tonight's all new Revenge, airing at 9:00 p.m. ET/PT on ABC.  You can also watch other sneak peeks for tonight's episode on our Revenge page.
[FLOWPLAYER=http://www.tvovermind.com/wp-content/uploads/2012/10/rev-202-4.jpg|http://www.tvovermind.com/wp-content/uploads/2012/10/REV202_fv4.h264HD-Clip1.flv,440,280]
[FLOWPLAYER=http://www.tvovermind.com/wp-content/uploads/2012/10/rev-2.jpg|http://www.tvovermind.com/wp-content/uploads/2012/10/REV202_fv2.h264HD-Clip11.flv,440,280]
[FLOWPLAYER=http://www.tvovermind.com/wp-content/uploads/2012/10/rev-202-5.jpg|http://www.tvovermind.com/wp-content/uploads/2012/10/REV202_fv5.h264HD-Clip2.flv,440,280]