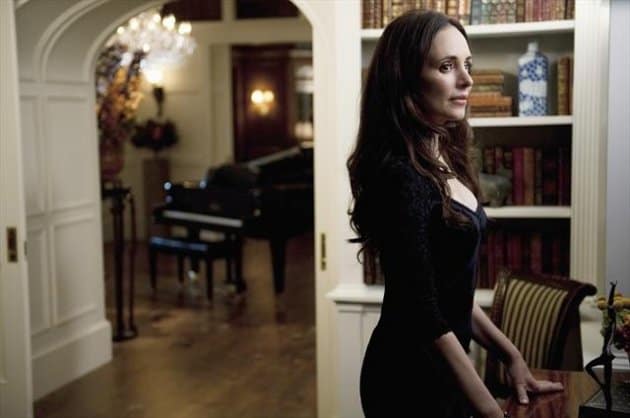 Revenge is going back in time in this weekend's episode.  The show is traveling back to 2006, to be exact.
In "Lineage", we'll finally get a sneak peek into Victoria's past when her mother, Marion, makes an appearance.  Unsurprisingly, Victoria has a horrible relationship with her mother, but Marion has reached out to a pre-preppy Daniel to try and reconcile, which ends with Marion joining the Graysons for Thanksgiving dinner and Victoria flashing back to her childhood.
Meanwhile, Emily heads out on her first mission for Takeda in 2006.  Joined by Aiden, she appears to be infiltrating a prostitution ring.  And from the looks of the photos for the episode, Ashley might be involved in the sordid mess.
Watch two sneak peeks below and tune in to an all new episode of Revenge on November 25 at 9:00 p.m. ET/PT on ABC.
[FLOWPLAYER=http://www.tvovermind.com/wp-content/uploads/2012/11/rev-208-1.jpg|http://www.tvovermind.com/wp-content/uploads/2012/11/REV208_fv1.h264HD-Clip1.flv,420,280]
[FLOWPLAYER=http://www.tvovermind.com/wp-content/uploads/2012/11/rev-208-2.jpg|http://www.tvovermind.com/wp-content/uploads/2012/11/REV208_fv2.h264HD-Clip2.flv,420,280]