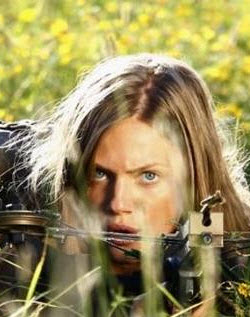 It's getting tough for dramas on network TV these days. People want less intriguing mysteries, and more dancing and singing reality shows. As such, it's interesting to note that NBC's Revolution premiered with the best numbers for a new drama in almost three years.
It drew in 11.4M viewers, and the last new show to beat that was V three years ago. But as was the case with V, decent numbers does not mean a lengthy run for a show. The buzz around Revolution has been mixed, though I will say I personally thought it could have been a lot worse. The casting of Billy Burke and Giancarlo Esposito bring it up a level, though obviously, like most shows, I think it is a better concept for cable or somewhere like HBO. How do you have a show about savage life after the world ends, complete with swordfights, and not show a drop of blood during fight scenes?
These numbers are probably even higher than what's being said here when you take into account the fact that the pilot was available to watch for free online for a week before the premiere, and it's how many people watched the show, myself included. Why, then, would I feel the need to tune in to the actual premiere live? There really needs to be an updated way to track TV ratings, and Nielsen just keeps getting further and further outdated.
Will Revolution last? It's hard to say. There have been many mystery shows that have seemed somewhat promising in the beginning, and you say "this one, this one will be the next Lost," but as of now, that has yet to happen. I hope Revolution can grow into a great show, but I'm not counting on it.