I swear season four must be the season of the kids.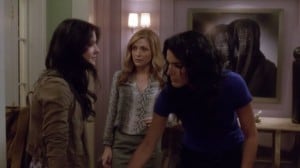 Something I've never understood is the sports mom mentality.   My mom was always the loudest in the stands for my basketball games or my martial arts tournaments. But apparently hockey moms are the epitome of crazy. Boston Irish/Italian hockey moms are the end all and be all of insanity.
An unknown woman is seen trying to get past a hockey mom, who apparently just doesn't give a hoot, and punches her in the face. Five minutes later she has her throat slit. That escalated quickly.
In the other side of the crime scene tape, Hope has left her daughter in the care of Maura. Who is a sophomore. In college. Now granted she did just have a kidney transplant, but at 19 years old she does not need a baby sitter. Jane and Mrs. Rizzoli get that, but apparently that got lost in translation in Maura's and Hope's giant brains. She is a straight A student in a pre-med program; let the woman breath!
Things we did get to see this episode that made me happy was Frankie working the crime scene. I'm still a bit confused about  how he is a floater assigned to Narcotics but is always working with the same three detectives in homicide. But maybe that's just me nit picking. However, I do love to see him learning the ropes from Korsak who just seems like the ultimate in super cool teacher.
Korsak makes another important appearance in the world of Mrs. Rizzoli who is seen running herself ragged collecting cans and trying to sell baked goods. When pressed, we learn that Mr. Rizzoli, the scum who ran out on his wife of 30+ years for a young floozy, never paid their taxes leaving Mrs. Rizzoli 30K in the hole. Korsak offers to loan her the money, which is crazy amount for a friendly loan, but she has too much Boston Italian pride to accept.
I know in the books, or at least I think I remember, Korsak and Mrs. Rizzoli get together. I'm wondering and also kind of hoping that's where all of their small moments are going. I think they would be a nice, healthy couple which would be nice to see for a change.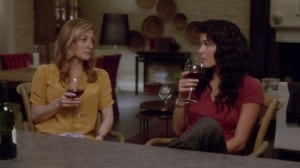 Going back to the weird crime scene, we are led on a DNA chase (is that a thing?) of a woman trying to find her missing nephew. One of those irrational kill-the-mother-and-take-the-kid type of things. A fourteen year old boy seeing the only father he has ever remembered being arrested for the murder of a mother he didn't know existed was kind of rough. The "new" mother going so far as to claim bio-mom had abandoned him! Strange people those two. What's even stranger is that I realize people get so caught up in their lies that this actually happens in the real world.
As always, the show ends with Jane and Maura reflecting on the insanity of the world. It was a good episode, and it seems the show is getting back on track.