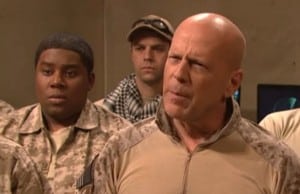 It is safe to say no one is hiring Bruce Willis for his comedic timing. While he may be a great action star and call pull off drama, when Willis does humor it rarely works. If you need proof of this look no further than his hosting gig on SNL this weekend. Generally, you can tell if a host will work by their monologue, and Bruce Willis' opening was not up to snuff Granted, he was not the worst host in SNL history, but the show could have benefited from a  funnier host for the second show of their new season.
The thing about Bruce Willis and humor is, you have to have him play the straight guy to the funny man. You really can't have him play the funny man. He just seems to take himself to seriously for that to work in his favor. While there was one sketch that was really funny, it was only funny because it reminded us of the Lonely Island digital shorts (which is obviously what it was trying to do) but outside of that, it was dull. Well it was funny seeing Bruce Willis in a centaur costume, but outside of that, there was very little about the show that was memorable.
Click here and watch the Boy Dance Party sketch. Just trust me. It was the best part of the show.