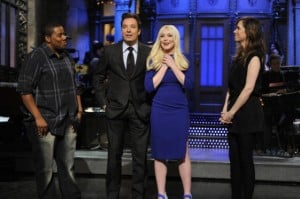 When Lindsay Lohan is good, she is real good. Top of the world good. Everybody likes her good. But when Lindsay Lohan slips, it is hard not notice. And if you want to remember GOOD Lindsay Lohan, all you need to do is watch her Debbie Downer episode of Saturday Night Live. She was on point, funny, and it ended up being a classic episode, full of memorable skits. But then she came back, hosted again, and it was kind of shameful. Well, SNL is hoping you remember the better time she hosted, because rumors is that they are eyeing the "formerly" troubled actress as the host for their opening show this season.
Keep in mind we say "eyeing" because SNL producer Lorne Michaels is famous for not being a fan of celebrities who like to get messed up and mess their skits up. This being said, Lohan is JUST out of rehab, and there may be some hesitation on SNL's part, because although Lindsay Lohan has been doing fine so far, if her track record is any indication, there are a good number of people who just think it is a matter of time before she falls off the wagon again. And I think with SNL's history with substance abusers (often being the funniest cast members, but often dying) that SNL is hesitant to fully support Lindsay and make the hosting announcement, just in case something goes wrong between now and then.
Our thoughts on this are, honestly, give her another chance. America is all about second chances and redemption, and we shouldn't deny Lindsay Lohan the chance for that just because she slipped up a couple times. Like we said, when she is on point, she is REALLY on point, and maybe another gig hosting SNL will remind us all of the Lohan we once loved.
Okay, I use the word "loved" loosely.