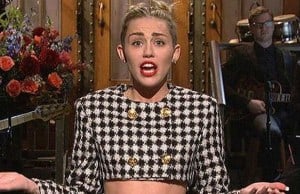 Alright, so maybe a great deal of us have Miley Cyrus fatigue right now, and with good reason. The singer is definitely a little bit over-hyped in mass media right now, and it seems everywhere you look, you cannot escape the pop starlet. From magazines to radio, and everything in between, the world is in a Miley Fever right now. But for many of her detractors, even they can't seem to say anything bad about her hosting gig on SNL this weekend.  In all honesty, she did an amazing job.
You need to understand that hosting a live show at midnight, being the musical guest, and being in almost every scene is not an easy thing to pull off, and somehow, Miley Cyrus did it.   And did it exceptionally well.  She seemed on point and energetic. She had no problem poking fun at her performance on the VMAs, and on top of it, seemed to have a lot of fun lampooning herself for laughs, which I think says quite a bit about her character.
Listen, you don't have to like her music, and you don't have to like some of her over-the-top antics, but to people who say she is "slipping", Miley Cyrus's gig hosting SNL this weekend proved to everyone, you don't have to like her, but the girl has some talent.   Clearly she has no intention of going away anytime soon, so you better just get used to her.