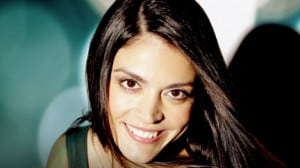 Alright, safe to say the SNL buzz surrounding Cecily Strong is getting louder and louder, and a recent NY Post article focused on the hilarious female sure didn't hurt at all. Cecily Strong, first of all, sounds like the name for a cartoon character or a kid's book, and that only works in her comedic favor even more. Some are saying she is the Kristen Wiig of the new season, but let's get one thing straight. She is the first Cecily Strong, not the second anyone else.
What is remarkable here, and what speaks volumes, is that they are putting Cecily Strong as the co host to Seth Myers for Weekend Update. We are not sure if you know how SNL works behind the scenes, but Weekend Update is the biggie for cast members. It assures major screen time every episode, and it keeps you from having to really be anyone but yourself, as oppose to characters you play in sketches. Also, if you think about it, Seth Myers has been solo in his chair for a bit, so deciding to have Cecily Strong co host Weekend Update with him says quite a bit about what SNL thinks about her talent.
Truth is, she has already shown she has what it takes. Last season she was the only memorable new cast member, and so it makes sense they take that and run with it, and we say kudos to Cecily Strong. It's not easy being a strong female in a male driven world, and yet making her marks regardless of that just shows she probably EARNED the Strong in her last name.