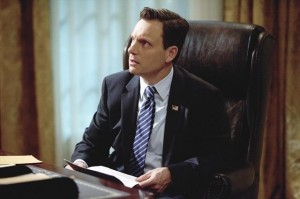 Following the death of Verna and Fitz finding out about the election rigging, we've seen very little of Hollis Doyle. Once on the verge of power when the President was in a coma, the Texas oil man was sent running to the shadows to regroup and reload, something that could end up being very dangerous for Olivia. Although she couldn't handle the moral implications of being on the same side with him, Olivia is safer being aligned with Hollis than she is gunning for him. Coming up on Scandal, though, she'll be in a position to help the man who engineered the election for Fitz. Will she put the past aside and take him on as a client?
On the next episode of Scandal, Hollis has come to Pope & Associates after his daughter has been kidnapped and held for ransom. Some members of the team don't want to provide their services to Hollis, as they know how dirty he can be, but Olivia is the one championing the cause. There's a certain risk that she takes on in agreeing to work on his case; what if Hollis is lying about her being kidnapped? What if, by associating herself with him, Olivia has put her team in the line of fire from whoever took the young girl? All of that will have to wait, though, as Olivia puts the safety and well-being of her clients above all else while working on a case. Her humanity is what ultimately led her from the Illuminati and her humanity will be what gets Hollis his daughter back.
Elsewhere on Scandal, David returns to Pope & Associates seeking shelter, the Olivia-Jake-Fitz triangle becomes even more complicated, and Cyrus and Mellie continue fighting to get in the President's good graces.
Scandal airs Thursdays at 10:00 on ABC.
Should the team agree to help Hollis? If his daughter has indeed been kidnapped, what could be the motive? Will Cyrus or Mellie end up in better position with Fitz?