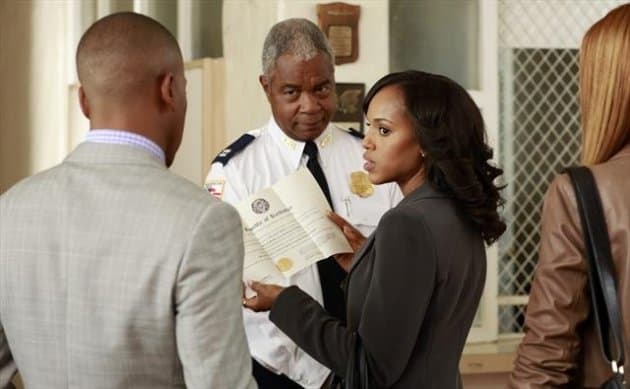 A common thread that has run through much of Scandal is that image is often more important than reality. Olivia's clients come to her to protect their public reputation or figure out how to reverse a recent episode of bad publicity; every member of Pope & Associates has a traumatic past that has been buried for the sake of their career; and Olivia herself tries to keep a certain amount of distance between her professional and personal lives, often letting that lapse when it comes to her relationship with the President.
On tonight's episode of Scandal, a seemingly innocent college girl from D.C. goes missing, bringing her parents to Pope & Associates for help in tracking her down. However, the co-ed isn't so innocent after all, as Harrison pieces together that she's the anonymous writer of Beltway Unbuckled, a blog that recounts one night stands with the D.C. elite. The last blog entry was three days ago, right around the time she disappeared; could Pope & Associates have already found their man who can lead them to the missing girl?
Or is there more to the story that even the great Olivia Pope hasn't figured out yet?
Meanwhile on Scandal, David continues looking into the Cytron case and receives information from a surprise source and the President feels pressure from Mellie, who has been gaining considerable political strength lately. Might she have enough power to force her husband to say goodbye to Olivia for good?
Scandal airs tonight at 10:00 on ABC. You can check out a recap of the most recent episode here, as well as the TVOvermind Scandal discussion forum here.
Where do you think Jenny is? How will Olivia (ultimately) react to the President "letting her go", likely thanks to nudging from Mellie? Who helps David with the investigation into the trial?
http://www.youtube.com/watch?v=wmK8wny-YpM