[FLOWPLAYER=http://www.tvovermind.com/wp-content/uploads/2012/12/sca-208-clip.jpg|http://www.tvovermind.com/wp-content/uploads/2012/12/SCA_208_hv.h264HD-Clip1.flv,440,280]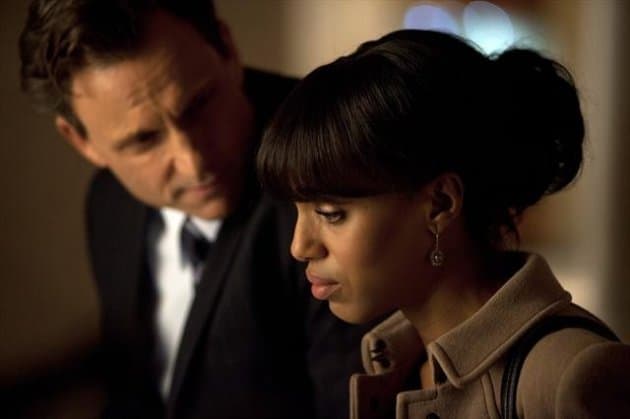 Fitz's 50th birthday party was supposed to be the event that helped Olivia move on from their relationship. She'd dress up in a gorgeous evening gown, get out of the house for the evening, and have a fun time with Edison while proving to herself that she wasn't under Fitz's control, that she could have a life apart from him. However, any hope of an emotional separation was shattered once the President was shot shortly after exiting his limo, inciting a national panic about the well-being of their leader and the direction the United States would be heading if he didn't pull through. How would Olivia handle the aftermath of such an awful event on tonight's episode of Scandal?
Initially, Olivia can't orient herself to the thought of losing Fitz, nearly fainting in the ER after becoming overwhelmed at the yelling, the blood, and the constant motion of the doctors. She can't afford to let the moment and her grief for her former lover keep her from doing her job, though; Olivia Pope the woman may want to cower into the corner, but Olivia Pope is also Olivia Pope, dynamic political fixer and that's who she has to be right now. It could be a blessing to have something else to focus her attention on in trying to catch the shooter, particularly as there's nothing she can do to help Fitz but wait. With VP Langston circling the presidency like a shark in bloody waters, Olivia'd be better off keeping herself busy and detaching herself a little from the situation, as best she could.
Elsewhere on Scandal, we flash back to President Grant's inauguration following the illegally obtained election. Interestingly, Olivia is the one who began to pull away from their relationship, citing their agreement that it'd cease once he assumed office. However, he doesn't seem to remember the conversation or, more likely, he doesn't care, as Fitz is far and away the more affectionate one of the two in a sneak peek from tonight's episode, to the point that Mellie nearly catches them in the act. Mere minutes before being sworn in as the President, at that. Could the memories that come flooding back to Olivia about the happier times of their relationship lead to a reunion between the two?
Scandal airs tonight at 10:00 on ABC. You can check out a review of the most recent episode here, as well as an additional preview of tonight's episode here.
Will Olivia be able to figure out who pulled the trigger on Fitz? Can anybody stop Sally Langdon from becoming drunk on the power she has with the President in the hospital? What do you think we'll learn about Olivia and Fitz's relationship post-inauguration?
[FLOWPLAYER=http://www.tvovermind.com/wp-content/uploads/2012/12/sca-208-1.jpg|http://www.tvovermind.com/wp-content/uploads/2012/12/SCA208_fv1.h264HD-Clip2.flv,440,280]
[FLOWPLAYER=http://www.tvovermind.com/wp-content/uploads/2012/12/sca-208-2.jpg|http://www.tvovermind.com/wp-content/uploads/2012/12/SCA208_fv2.h264HD-Clip3.flv,440,280]