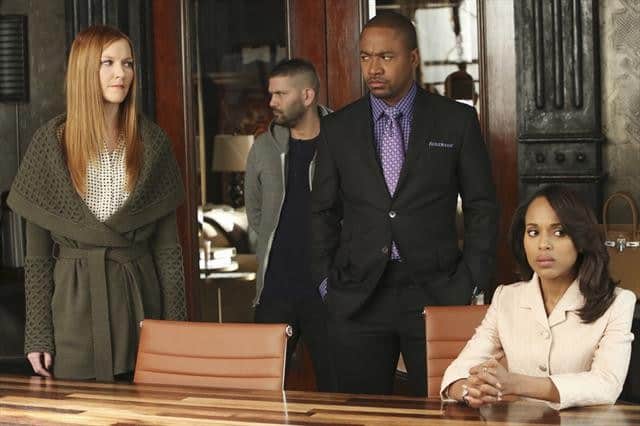 For all that the nation knows, CIA Director Grayden Osborne drove to a secluded part of D.C. and fired a bullet into his brain, ending his life after being let go from his position. Overcome with grief about a damaged reputation and how those above him felt he failed the country, the Washington veteran couldn't bear to deal with a life outside politics and ended things before he had to face his new reality. However, that's not the reality of the situation, as Jake revealed his involvement in staging the suicide to a colleague and cast further doubt on his motives in running surveillance on Olivia. Will the noted Washington fixer begin to figure things out next week on Scandal?
Though she doesn't know about her would-be lover's role in the death of Director Osborne, Olivia has pieced together that there's something that doesn't quite add up. Her gut may not be the best when it comes to matters of the heart, but she's been involved in the D.C. underworld long enough to know a thing or two about things like this, so only a perfect staging would have been able to get past her. When she gathers that Osborne didn't kill himself and that someone wanted him dead before he could speak out, Olivia will have to reopen the investigation into the identity of the mole and frankly, it might end up being someone a little too close for comfort.
Elsewhere on Scandal, Jake and Olivia's relationship starts to heat up, even with everything going on with Osborne and the hunt for the mole, while Fitz and Mellie grow even further apart following their run-in in the Oval Office.
Scandal airs Thursdays at 10:00 on ABC.
If Osborne wasn't the mole, who do you think is? When will Olivia begin to suspect that Jake isn't who he seems to be? How far will Fitz's relationship with Mellie deteriorate until something has to be done?
http://www.youtube.com/watch?v=-NQa4utQnYQ