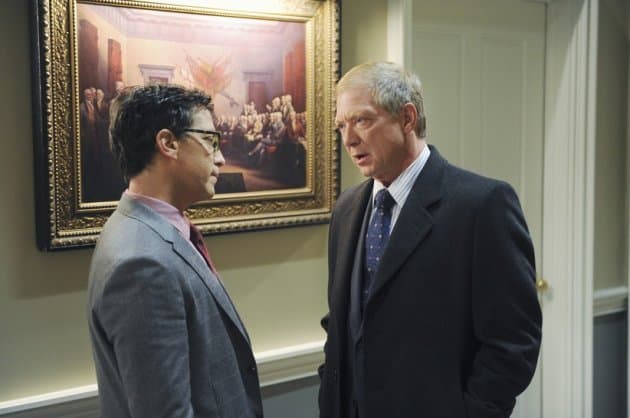 Tonight's episode of Scandal found the Cytron case nearly being blown apart by David Rosen. The attorney ultimately may have been offered his job back, but the cabal club was behind the rehiring, adding a stipulation that he stop his investigation in order to get the position back. If that wasn't enough, they sent a plant "informant" to the meeting that Rosen set up at the diner, though Abby picked up the slack and found out important information that could spell the end for Olivia, Cyrus, Hollis, Verna, and Mellie. Once David connects Hollis to Cytron, the rest of the dominoes will fall, but with Olivia listening in to his conversation with Abby, don't be shocked if the political fixer goes on the offensive against her employee and her frenemy.
Subtly, though, of course; Abby doesn't know the connection that Olivia has to Hollis. However, if she knows about the election, it could/will likely lead right back to Olivia, so Ms. Pope will have to act.
Quickly.
Below are the date, episode title, and episode description for next week's episode of Scandal.
Thursday, November 15th – "Spies Like Us"
Olivia receives an anonymous letter containing a coded warning which could expose Huck's dark past. Meanwhile another Pope & Associates secret has already been exposed and Olivia asks Harrison to step up and handle it. And in the White House, Cyrus and Fitz are dealing with the ramifications of Cyrus' husband's first front page news story.
Scandal airs Thursdays at 10:00 on ABC. You can check out the TVOvermind Scandal discussion forum here, as well as a review of tonight's episode, which featured more than a few shocking reveals, here.
Will Huck's past be able to stay in the dark, or will Olivia not be able to fix something for once? How will Harrison take to heading up the team to shut down another secret? Is it safe to say that Cyrus and James will be hitting a rough patch now that the latter is working at the White House?
http://www.youtube.com/watch?v=RfKYf4o676w