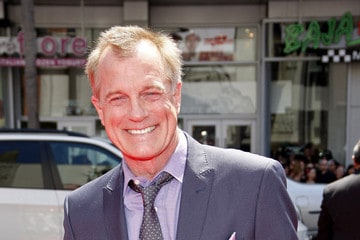 Reverend Camden is coming into Olivia Pope's world and he just might be doing a little exposing of the savvy political fixer.
According to TVLine, Stephen Collins will be guest starring in an upcoming episode of Scandal as a reporter, though no details have been released about his character yet. He could be one of the clients that Olivia has to "fix," but there's a chance he may play a role in the fix-of-the-week or, most interestingly, he might be thrown into the Cytron controversy. Last week, it was revealed that Olivia, Verna, Mellie, Cyrus, and Hollis had formed an alliance that had something to do with the bombing that killed six people, including Quinn's boyfriend. The timing of the announcement makes me think that they might not be as inconspicuous as they assumed and that we will be getting more information regarding how much of a part they played and why they decided to get involved in the first place.
In addition to his most famous role as the patriarch of the Camden family on 7th Heaven, Collins has made guest appearances on the likes of The Office, It's Always Sunny in Philadelphia, and Brothers & Sisters. His appearance on Scandal will mark his second trip into the Shonda-verse, as he played Addison's father on four episodes of Private Practice.
Scandal, recently receiving a full season order from ABC, airs Thursdays at 10:00, though it's being preempted this week for the CMA Awards. You can check out a preview of the next episode here, as well as a recap of the most recent episode here.
What role do you think Collins' character will play regarding the recent developments on Scandal? Is Olivia in danger of being exposed for her role in the Cytron bombing? If the cabal club is brought down, which member would suffer the harshest punishment, punitive or otherwise?