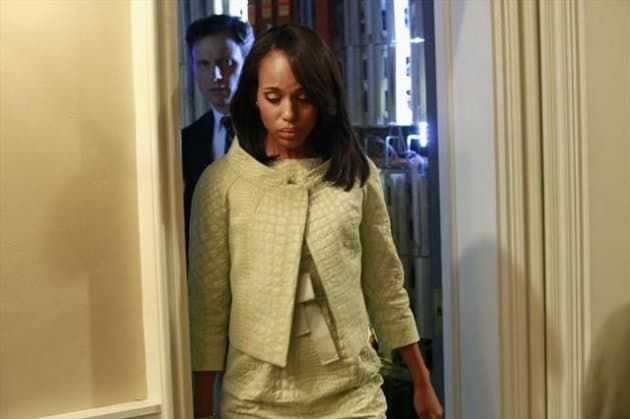 It was too good to be true. After a restless 10 months spent torturing herself with guilt over Defiance, Olivia Pope met a good-looking, charming man in a coffee shop. Even though she wasn't exactly rushing down the aisle with him, it just felt nice to smile for once, as there hadn't been many opportunities to relax or get attention from another guy recently on Scandal. Slowly, though, Olivia unwrapped the mystery of the man she met and it turned out that there might not have been anything random about their "random" meeting.
On the next episode of Scandal, Olivia is still being monitored by Captain Jake Ballard, who has installed surveillance cameras in the apartment of the political fixer. The two end up going out on the date that they arranged at the conclusion of tonight's episode and Jake is still all grins and charisma, but what could be lurking underneath the veneer that the elusive intelligence officer puts out? There's a reason that he's keeping tabs on Olivia and since it's obvious that this isn't a one-person operation, it's something more than a creepy obsession or someone who had been holding a long-standing grudge. A possibility could be that a person (or group of people) from Olivia's past is behind the surveillance, merely waiting for the opportunity to catch her in a lie and pounce accordingly; perhaps someone with knowledge of Defiance? After all, Olivia herself that Defiance will never go away.
Elsewhere on Scandal, Olivia takes on a gay client looking to run for (and win) the Governor's seat in North Carolina, while Abby and David begin seeing one another again.
Scandal airs Thursdays at 10:00 on ABC.
Why do you think that Jake has Olivia's apartment monitored? How long has this been going on? Is one of the people Olivia has burned in the past involved in the surveillance?
http://www.youtube.com/watch?v=ZPJepIDfzS4