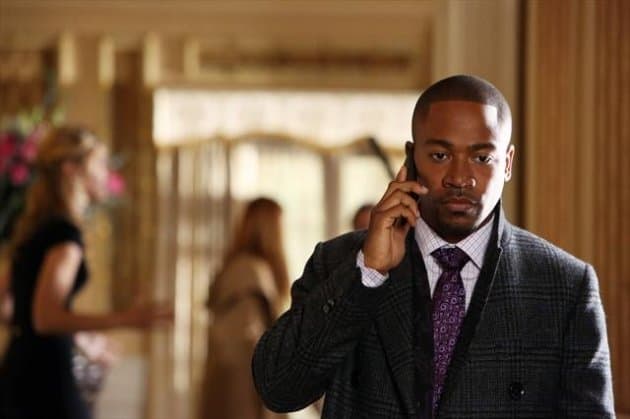 Olivia Pope has that innate ability to look at a situation that has been deemed unsolvable and solve it. While a client may seem like a lost cause to most, Olivia finds a tiny enough loose thread and over the course of an episode, yanks at it under she sees what's underneath. It's an ability that has made Pope & Associates the go-to place for D.C. residents in trouble and one that has garnered her quite a reputation in the city and among the political elite, but on the next episode of Scandal, she'll be tackling her most important case yet.
Olivia is summoned back to the White House in the aftermath of the tragedy at Fitz's birthday party, where the President was shot shortly after exiting his limo with Mellie. She may be grappling with her own complicated and overwhelming emotions at being in this type of situation with the man she loves most in the world, but it will be up to Olivia to figure out who had the motive, resources, and opportunity to attempt to assassinate the President of the United States. Likely (and rightly), her first target will be Hollis Doyle, particularly if she can get a word alone with Mellie and/or Cyrus. If Olivia can get information about Hollis threatening Cyrus before the party or some concrete details about where Mellie's "bad feeling" came from, she might be able to solve her most important mystery yet.
Elsewhere on Scandal, we'll get a look at the first days of the Grant presidency, which may fill in some of the blanks on the vote rigging and provide another look at how the victory affected the dynamic between Olivia and Fitz.
Scandal airs Thursdays at 10:00 on ABC.
Who do you think shot Fitz? Was the bullet intended for him or was there another target in mind (i.e. Mellie)? How will Olivia react to being back at the White House under circumstances like this?
http://www.youtube.com/watch?v=8d5ShzpXeu0