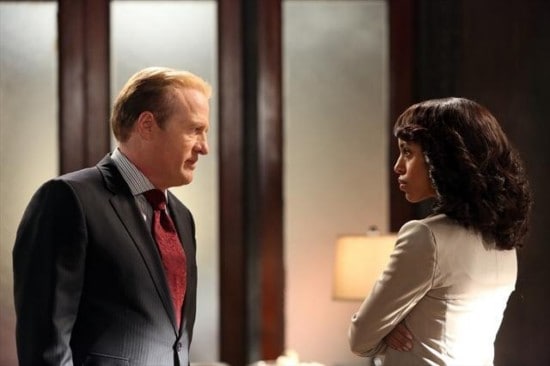 This week on Scandal, Mellie pulled out the final bit of magic in her considerable bag of political tricks when she induced her labor in an attempt to curry favor with Fitz. After he had informed her that he would be seeking a divorce, FLOTUS could have melted down and tried to argue some sense into her husband, but she opted for another approach instead; by going into labor and making sure that he would be in the delivery room, Mellie hoped to share the same type of connection with him that they did when their other two children were born. Would this actually work and make Fitz reconsider leaving her or is it too late for Mellie to piece her marriage back together?
On the next episode of Scandal, Fitz still hasn't let go of the idea of divorcing Mellie while in office. Even with the potential for awful polling numbers and a completely reversal of the good will he acquired in recent months, Fitz doesn't want to live a lie anymore, to put forth the facade of being in a happy marriage and living the American dream when he and Mellie haven't been intimate in quite a while. The only problem is that President Fitzgerald Grant III is not one person; there's a whole host of individuals that have poured time, sweat, and tears into making him into the man he stands today and if Fitz decides to chuck that all away in a fit of newfound independence, he'll have each of them to answer to.
Elsewhere on Scandal, with Hollis out of prison after being proven innocent in the assassination financing, Olivia will have to figure out who was behind the attempt on the President's life while protecting herself and her team from Hollis' wrath. Can they fix what would be their most important case yet and take Hollis out before he can do any damage?
Scandal airs Thursdays at 10:00 on ABC.
Do you think that Fitz should go through with the divorce and leave Mellie while in office? Will Hollis retaliate against Olivia after finding out that she was behind the arrest? If Hollis didn't pay off Becky, who did?
http://www.youtube.com/watch?v=XwpypXUKGXI