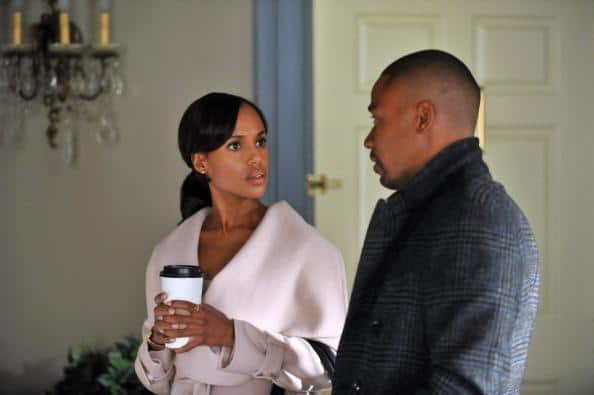 With one phone call, Olivia Pope cleared the name(s?) of Quinn Perkins/Lindsay Dwyer. The newest member of Pope & Associates had been accused of mailing a bomb to a cheating boyfriend that killed seven people and her trial wasn't exactly going well at the time. The prosecution had been aggressive and thorough enough to the point that it would take one hell of a Hail Mary to keep the young attorney from facing the death penalty. But from watching Olivia work through the first season of Scandal, it seems like she always has something up her sleeve. It's only a matter of waiting for the right time to use it.
On next week's episode of Scandal, the dismissal of the case against Quinn/Lindsay and the betrayal that David felt as a result aren't going away. With Abby not buying what happened (and Harrison not too convinced, either), Olivia will have to either come clean to her team or go to extraordinary lengths to keep the secret that only she and Huck share hidden from the rest.
And there's the whole matter of her next client (a pastor found dead in bed with a hooker)…and everything going on with the President, who is feeling the heat from Cyrus and Mellie and reached out to Olivia in tonight's season premiere…
Olivia Pope may be the Superwoman of D.C., but even she might be sweating a bit with how much is on her plate right now.
Below is the date, episode title, and full episode description of the next episode of Scandal.
Thursday, October 4th – "The Other Woman"
When a public figure is caught in a compromising position, Olivia and her team must do some heavy lifting, literally, in order to clean up the mess. But Olivia is still dealing with the ramifications of the judge's jaw-dropping verdict, and Abby continues to push for answers. In the White House, Cyrus and Fitz are forced to deal with a serious foreign policy emergency.
Scandal airs Thursdays at 10:00 on ABC. You can check out a recap of tonight's episode here, as well as the TVOvermind Scandal discussion forum here.
What did you think about the season premiere of Scandal? When do you think the team will find out what happened with Olivia and Huck re: Quinn? What will their reactions be?