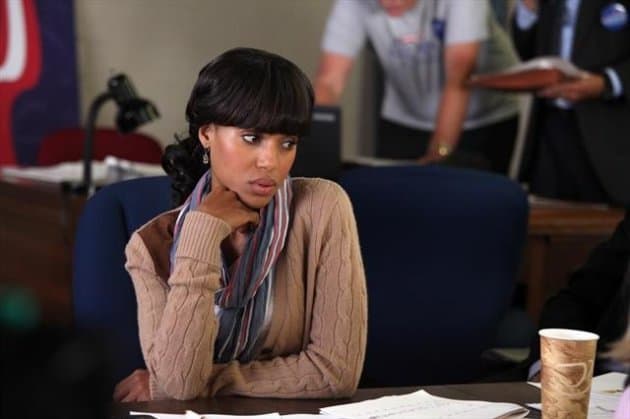 Last night on Scandal, the truth behind the election rigging was revealed and while Olivia Pope took the longest to come around to the idea, she did eventually come around to colluding with Hollis, Mellie, Verna, and Cyrus. Blinded by her love for (and admiration of) then-Governor Grant, she put her professional reputation on the line and allowed a computer savvy contact of Hollis' to rig the results in Defiance County, Ohio, the key county in the entire presidential election. While that information has stayed buried for years, what would happen if word were to get out, even just to Washington insiders, that President Grant isn't even technically President?
On the next episode of Scandal, Pope & Associates discovers what is likely their worst fear: Olivia committed a crime. A big crime, a federal crime. And she's no better than they are. Part of the hold that Olivia has over her team is that she's their savior and without her picking them up and putting them where they are, they might not be here right now. However, the white hat that she so proudly dons has been permanently browned by her association with the cabal club and there may not be anything she can do to have it be clean again.
Elsewhere on Scandal, Mellie will be dealing with the d-word: divorce. The bomb that Fitz dropped at the end of the previous episode, that the one thing he wanted to spend his newly acquired political capital on was a divorce, had to have shaken Mellie pretty hard; America's Baby is coming, Fitz's time with Olivia is over, and he made it through one of the most trying times any person could experience. It should be a time of celebration for the Grant family, but Mellie might have to revert to her political shark instincts simply in order to keep her husband.
Scandal returns Thursday, January 31st at 10:00 on ABC.
Was Olivia wrong for conspiring with Hollis, Mellie, Verna, and Cyrus to rig the election for Fitz? Will the revelation that she was involved in a federal crime sully her reputation for good? Will Fitz actually divorce Mellie and go after Olivia or will his advisors talk him down from making a drastic decision?
http://www.youtube.com/watch?v=ViBXFk12070