[FLOWPLAYER=http://www.tvovermind.com/wp-content/uploads/2012/09/sca-201-2.jpg|http://www.tvovermind.com/wp-content/uploads/2012/09/SCA201_fv2.h264HD-Clip2.flv,420,300]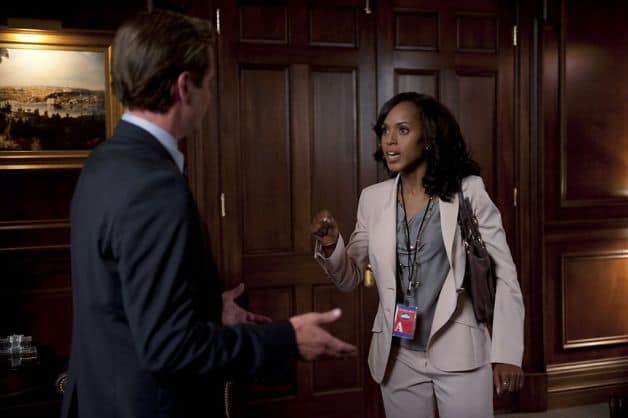 During the first season of Scandal, Olivia Pope took on the cases of a D.C. madam, a closeted war veteran, and an airline pilot whose family was looking to clear her name following a mysterious crash, among several others. The political fixer showed no fear in taking on clients that very few would even consider, eventually proving their innocence and leaving them in a promising place filled with new beginnings.
Once the second season kicks off, though, Olivia will have to go deep into the heart of D.C. darkness for her next client. The team from Pope & Associates is in charge of Congressman Shaw, who called Olivia after discovering a tiny piece of surveillance equipment in his office. The camera gets activated through motion, so every time that politico had a private phone call or a meeting in his office, it ended up being recorded and transmitted to whoever put it there.
That's the thing, though. Who would A) want to have access to Shaw's life behind closed doors, B) have the resources/connections to procure a camera like that, and C) be able to get into the office and set up the camera without being detected? And what exactly would the congressman be afraid of getting out into the public, should the culprit begin leaking the events/conversations that transpired in the office? Before Shaw can fully protect himself from the possible media storm to come, he'll have to fully confess to Olivia so that she'll know what she's dealing with going forward.
The second season of Scandal premieres this Thursday at 10:00 on ABC. You can check out another sneak peek from the episode here, as well as a full description of the season premiere here and the TVOvermind Scandal discussion forum here.
Will you be watching Scandal this season? Who do you think would be secretly filming the congressman in his office? How soon do you think Pope & Associates will find the culprit(s?) and bring them to justice?