[FLOWPLAYER=http://www.tvovermind.com/wp-content/uploads/2012/11/sca-206-1.jpg|http://www.tvovermind.com/wp-content/uploads/2012/11/SCA206_fv1.h264HD-Clip1.flv,440,280]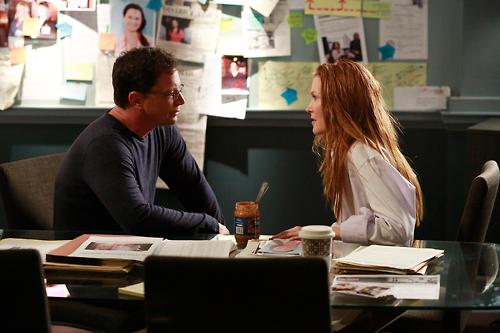 Olivia Pope is in an interesting position tonight on Scandal. She knows that her professional frenemy David and her employee Abby have been getting closer romantically and have been exchanging information on Hollis Doyle, the man in charge of the group that had a part in the Cytron bombing. A group that includes Olivia. With Abby figuring out the connection between the Texas oil man and the tech company in last week's episode, it's only a matter of time before she uncovers Olivia's part in everything that happened. How long will Olivia let the two work (and play) together before she has to do her thing and break them apart?
In a sneak peek from Scandal, there's another wrinkle in the case, as David and Abby discover that a proposed pipeline and a Hollis Doyle SuperPAC have been added into the mix. Might he have been pouring money into the campaign of President Grant (and came up with the idea of the rigged voting machines) in order to protect his business ventures in the future? In addition to finding out a pivotal piece of information, David asks Abby to take a drawer in his dresser, signifying their relationship moving to the next level; Olivia has been listening to all this and gets emotional upon hearing that Abby might not be in her grasp anymore. Could this be the catalyst that Olivia needed in order to justify taking them both out for good?
Elsewhere on Scandal, Olivia calls up Harrison to keep a secret about Pope & Associates from leaking, while James gets his first major story since going back to work. The only problem is that it'll have Cyrus and the President doing damage control; can James and Cyrus co-exist in the same working environment, or will one of them have to quit to save their marriage?
Scandal airs tonight at 10:00 on ABC. You can check out a preview of tonight's episode here, as well as photos from the episode here and a review of the last episode here.
How much information do you think Olivia will let Abby and David acquire before stepping in? Just how deep does the connection between Hollis and Cytron go? Is it too late for any of the other four members of the club to get out before the truth about the explosion comes out?