[FLOWPLAYER=http://www.tvovermind.com/wp-content/uploads/2013/01/SCA-210-1.jpg|http://www.tvovermind.com/wp-content/uploads/2013/01/SCA210_fv1.h264HD-Clip1.flv,440,280,true]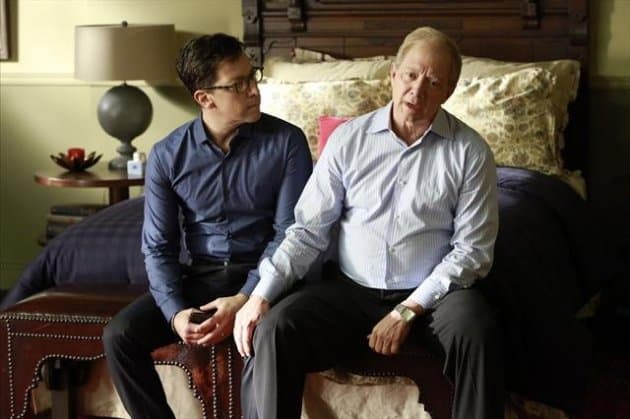 Once Verna was backed into a corner by acting President Sally Langston, she had no (real) choice but to protect herself and her respected career above all else. Unfortunately, that choice came at the cost of Huck's freedom, as he was arrested in the closing moments of the Scandal winter finale for his role in the attempted assassination of the President. However, when the show returns from hiatus, Verna will be doing her best to find the real person (or people) behind the plan to take out President Grant before any more harm can be done to Huck.
That's because Huck is having to deal with "enhanced interrogation techniques" designed to get him to confess or give up any names of people involved in the plot; they're leaning on him because there's a press conference scheduled for that evening and if Langston can crow that she caught the man who tried to kill the President, her political career would receive a serious boost. Huck, though, isn't talking and the CIA shows no hesitation in increasing the pain, despite the protest of David Rosen.
In order to help Huck, Verna has gathered the other three members of the cabal club and informed them that she thinks that Hollis is the one behind the attempted assassination, considering how close he and Langston have become since the shooting and how he's already showed a penchant for violence. Would Olivia, Mellie, and Cyrus be willing to go up against someone as unhinged as Hollis in an attempt to take him down?
Elsewhere on Scandal, Edison has received an official letter from the President, requesting his powers be reinstated. If President Grant is awake and on the mend, that could send Hollis running, but until he's 100%, will he be truly safe? Or is he leaving himself open to someone coming in to finish the job?
Scandal returns from winter hiatus Thursday, January 10th at 10:00 on ABC. You can check out a review of the last episode here.
Do you think that Verna's right and that Hollis is the main force behind the assassination plot? Will Olivia be able to get Huck out of custody before any harm comes his way? Is the President awake for good or will he slip back into a coma?
[FLOWPLAYER=http://www.tvovermind.com/wp-content/uploads/2013/01/SCA-210-2.jpg|http://www.tvovermind.com/wp-content/uploads/2013/01/SCA210_fv2.h264HD-Clip2.flv,440,280]
[FLOWPLAYER=http://www.tvovermind.com/wp-content/uploads/2013/01/SCA-210-3.jpg|http://www.tvovermind.com/wp-content/uploads/2013/01/SCA210_fv3.h264HD-Clip3.flv,440,280]