[FLOWPLAYER=http://www.tvovermind.com/wp-content/uploads/2013/01/sca-212-1.jpg|http://www.tvovermind.com/wp-content/uploads/2013/01/SCA212_fv1.h264HD-Clip1.flv,440,280]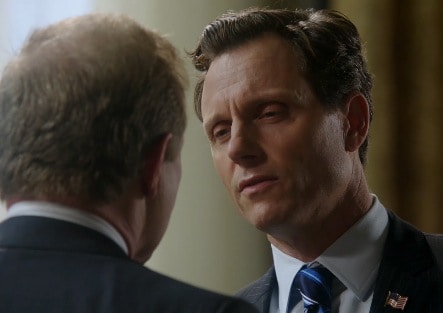 The possibility of Fitz and Olivia being able to be together in public took a great leap forward last time on Scandal, with the President emerging from a coma declaring his intentions to use his political capital to divorce Mellie while in office. It's an extremely risky move from a man noted for how tentative he can be and one that could puncture any chance he had of getting reelected; like her or not, Mellie is a political shark and has swooped in to help her husband's approval ratings many a time and you want that type of person on your team, particularly when that person is carrying America's Baby. Fitz may be seeing an upswing in poll numbers and feeling more confident after getting the job back from Sally, but would he still hold the idea of divorce so highly after a little time had passed?
Apparently, he's locked into the idea of leaving Mellie, as Fitz is shown asking Cyrus to pull a few strings to make it happen in a sneak peek from the next episode of Scandal. He argues that after having the attempt made on his life, he's no longer afraid of anything, including poor political polling and the possibility of being a one-term President. Fitz has never lived, breathed, and ate politics the way that the team around him has and being faced with his own mortality reminded him of how unsatisfied he is with his current situation. He may love the American public and want to serve them to the best of his capabilities, but he doesn't want to have to live a lie and be unhappy just to do a job.
Unspoken is that getting a divorce from Mellie could free him to be with Olivia and allow them to step out into public as a couple. However, Olivia is busy dealing with the fallout from the election rigging scandal, which has leaked to her fellow Gladiators. Olivia was always the least committed of The Five to the idea of fixing the election, but if the information gets out even further, she'll lose the respect of her associates, put herself into harm's way due to her association with Hollis, and potentially taint any chance she has of being a legitimate part of Fitz's life. Can Olivia find a way to fix the seemingly unfixable and turn her white hat a few shades brighter in the process?
Scandal airs Thursday at 10:00 on ABC. You can check out an additional preview of the next episode here.
Do you think that Fitz will be able to go through with the divorce from Mellie and remain President? If it does happen, how will Olivia react to having Fitz be available and the possibility of the two going public/legitimate? Will everything going on with Hollis and the election rigging distract her from potentially being with him?
[FLOWPLAYER=http://www.tvovermind.com/wp-content/uploads/2013/01/sca-212-2.jpg|http://www.tvovermind.com/wp-content/uploads/2013/01/SCA212_fv2.h264HD-Clip2.flv,440,280]