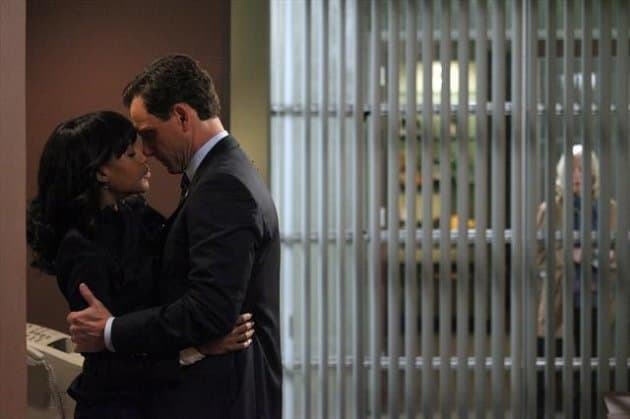 The team from Pope & Associates have worked with madams, closeted military men, children of millionaires, and dictators. They've looked into plane crashes, explosions, and very nearly solved the mystery of who attempted to kill the President, something that none of the federal agencies on the case got anywhere near. Individually, they're crafty, intelligent people, but put them together and you have a united force that could crack just about any major case that came their way. Coming up on Scandal, though, they'll have a client who hits closer to home and could potentially cause a conflict of interest.
That's because the team will be working with David Rosen instead of against him after he wakes up in bed with the body of a bloody woman beside him. Regardless of whether he's guilty or innocent of the crime, and no matter who might be responsible for attempting to frame him should he be innocent, the power dynamic between David and Olivia has changed once again. The two have constantly shifted between being friends and enemies before recently settling on being a bit of both, but now David needs Olivia Pope to be Olivia Pope and do everything that used to irritate him to no end in order to prove his innocence. Doing that will take quite a bit of time and while Olivia does her thing, he'll have to deal with Abby on a day-to-day basis.
Breaking up with someone can be an emotionally taxing ordeal that makes you want to look inward for some type of solace and spend time away from your former lover to rediscover who you were before the relationship began. In the case of David Rosen, though, he'll have to rely on the woman who he very publicly dumped to pull through for him and keep him from going to jail for a long, long time.
Elsewhere on Scandal, Olivia becomes involved with a man who she meets up with at the Pentagon, while Fitz still doesn't know who to trust regarding the election rigging and the assassination attempt.
Scandal airs Thursdays at 10:00 on ABC.
What will Olivia going after another man do to Fitz and his relationship with Mellie? Will Abby be able to work to exonerate David Rosen without their personal history getting in the way? Who should Fitz trust?
http://www.youtube.com/watch?v=Hx2ricogSn4