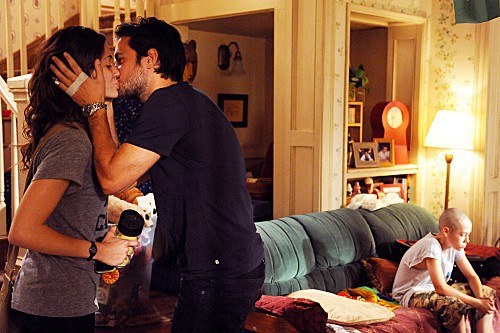 This season on Shameless, Fiona and Jimmy have been on two totally different journeys, only intersecting for sleep or sex. While Fiona has a new job at the supermarket and ambitions that stretch beyond the Chicago city limits, Jimmy still has Estefania (and all the problems associated with her) in his life and finds himself becoming Mr. Mom to the kids while Fiona's out. They've not been around each other enough for their feelings on where they are as a couple to come out into the open, but when they're thrust together due to an issue with the city, things begin to crumble.
On the next episode of Shameless, the city has announced that they'll be working on the main sewer line, which means that they'll be digging up the Gallaghers' yard…where the remains of Aunt Ginger reside. All of the Gallaghers now have to dig up the yard before the city can get to it so they can move Aunt Ginger to another location, but their work gets interrupted by a visibly distraught Jimmy, tired of Fiona not being there for him when he needs her. After all the time, money, and energy he's provided the Gallagher family, Jimmy feels like she should return the favor and at least be a shoulder to lean on, as he's still processing everything regarding his father. However, Fiona basically tells him to suck it up and that she has bigger things to deal with, leading him to storm off. Will the two eventually get on the same page or is this the beginning of the end of their relationship?
Elsewhere on Shameless, Jimmy's father Ned wants Ian to break into his wife's house, likely to get back some of his property, while Molly discovers a startling secret about who she is and after a talk with Kev, Lip realizes that he's "ghetto married" to Mandy.
Shameless airs Sundays at 9:00 on Showtime.
Do you think that Jimmy has a point about Fiona not giving his problems any attention? Will Lip be turned off from how clingy Mandy's gotten? Can the Gallaghers move Aunt Ginger's remains before their yard gets dug up?