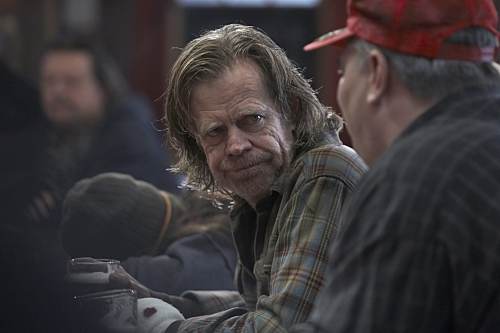 This season on Showtime's Shameless, it looks like the Gallagher family hasn't lost a dysfunctional step, even in the transition from blistering Chicago winters to the humid and uncomfortable stickiness of summer.
In the trailer below, it's been several months since the events season one finale that saw Fiona deciding to stay home instead of run away with Steve, Lip and Karen resolving their issues, and Ian coming out. Now, Fiona has an office and is on the rebound with a tall, dark, and handsome guy (James Wolk, Lone Star) she meets at her bartending job, though Steve isn't too far from her mid. Lip and Karen have drifted apart again, with "beautiful mess" Karen currently in the arms of another guy. Karen's mom Sheila, once shut up in her house for fear of anything and everything, is now out and about, at least comparatively speaking; now that she's getting assimilated into the outside world, there's a risk that she'll find out what happened between Karen and Frank at the end of last season, an event that made husband Eddie kill himself.
Additionally, Ian may be headed to West Point, Frank and Lip continue to snipe at one another, and Fiona tries to balance raising her family with having a social life, not to mention the fact that Carl has a blowtorch, Frank has an eye patch, and Debbie wants to know where to get knives and blunts. (No, really.) Shameless ended its rather dark (and darkly funny) first season with the Gallagher family still surviving despite jail time, break-ups, and menial sources of income, but it looks like season two will be putting Fiona, Lip, Ian, Carl, Debbie, and, yes, Frank through a whole new set of challenges.
Shameless returns Sunday, January 8th at 9:00 followed by the premieres of House of Lies and Californication.