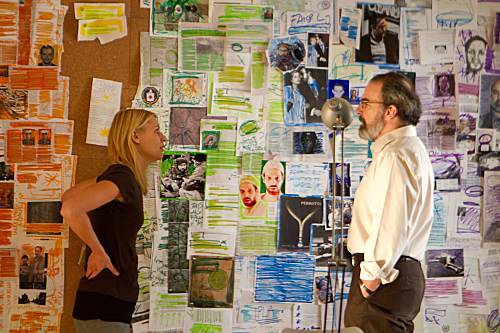 Reactions to the Homeland and Dexter season finales have been strong on both ends of the spectrum; Homeland lived up to some viewers high expectations and left others feeling cold (put me in the first camp) and Dexter has had some questioning where the show can go after an uneven sixth season that finished with a huge cliffhanger. What both shows can boast about though, is impressive season finale ratings that have set some records for their network Showtime.
The 90-minute Homeland finale had 1.7 million viewers for the first showing at 10 p.m. on Sunday, with an overall viewership of 2.03 million for the night. This makes the Homeland finale the highest rated ever freshman finale for Showtime. It is also a staggering 58 percent increase on the series' first episode which received 1.08 million viewers. The growing ratings for Homeland mean that it is now Showtime's highest rated freshman series ever and it is also the networks second most watched series behind Dexter.
The ratings for Homeland get even more impressive when all platforms for viewing are considered; in the first 8 weeks the show averaged 4.23 million viewers for a single episode. The full ratings for all platforms for the finale will be available in January.
Dexter also set some records with its season finale grabbing 2.23 million viewers at 9 p.m. and an overall 2.71 million viewers for the night. This is the best ratings for Dexter for the overall year for both the show and the network. The sixth season of Dexter is set to be its highest-rated season ever as the first 8 weeks drew an average of 5.4 million viewers across all platforms.
To join in the conversation about both the Homeland and Dexter finales check out our reviews here and here.
All figures from TV by the Numbers.